15 Years of Vetsend
It's been 15 years since Vetsend was founded. Much has happened in the those 15 years and we have grown a lot. With an assortment of 15,000 products, Vetsend works hard to make pets and their humans happy!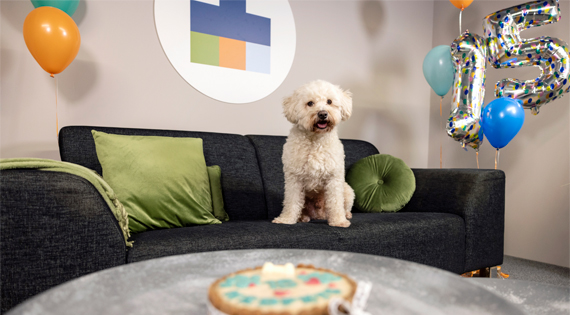 Once upon a time…
Sometimes it's good to stop and think about all you have accomplished. For us, a lot has happened in the past couple of years. Find an overview of our best highlights below.
Everything started in 2008 when Elies van der Graaff started Onlinepets B.V. and launched the Dutch website. The goal was to keep every pet healthy by offering an extensive range of medications, dietary supplements, diet food and care products targeted at pets.
Our goal is to help and cheer up as many pets and their humans as possible. Which is why, in 2011, we started selling products in Belgium and Germany.
We want to keep growing, which is why we moved to a brand new building in Oud Gastel, the Netherlands, in November of 2012. This allowed us to grow our capacity and offer even more products.
Since 2016, we have been cheering up and supporting pet owners with our extensive range of products in both the United Kingdom and France.
Is there still enough space?
The expansion to other countries and even more growth in the Netherlands meant that we had to look for a bigger space to store out products. In 2018, a new warehouse was opened at Emmerblok 1, Oud Gastel, The Netherlands.
At Vetsend, our goal is to be as user friendly as possible for our customers. Since our platform is online, our website plays a major role in this. In 2020 we launched a new platform in Austria. This new platform is now increasingly applied in other countries where we're allowed to sell our products.
Time for something bigger
All the new developments over the past few years and the expansions meant it became time for an even bigger warehouse. Which is why we opened a new warehouse at the Klerkenveld in Oud Gastel, The Netherlands, in 2021. Here, all packages are assembled and send out to the pet parents.
Accomplishments
At Vetsend, we are proud of all we have accomplished over the years. OnlinePets is part of the Dutch Top 250 Scaleups in 2018 and we hold a Skal certificate. We try to help and support as many animals as possible, which is why we are a partner of the Dutch Animal Protection Organisation. We also support organisations that provide shelter for abandoned and stray animals. One way in which we show our support is by donating our "unsellable" products on a monthly basis.  This way, we don't unnecessarily waste products while simultaneously helping animals. Together, we can work towards better animal welfare.
Time to party!
This special occasion calls for a great promo at Vetsend. Check it out here!
Do you and your pet love to party? At Vetsend, we are real party animals and we sell a bunch of fun and delicious products you and your pet can enjoy for a great party. Find some of our favourite party products below!