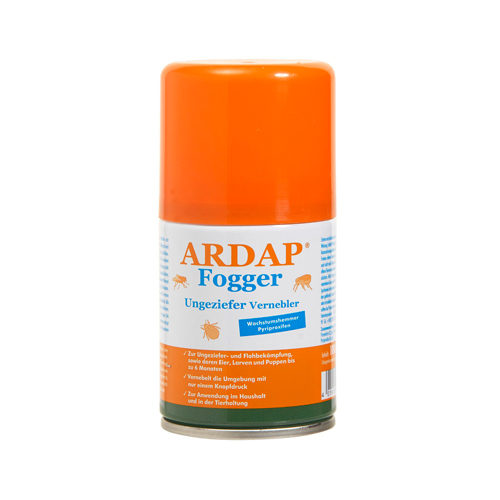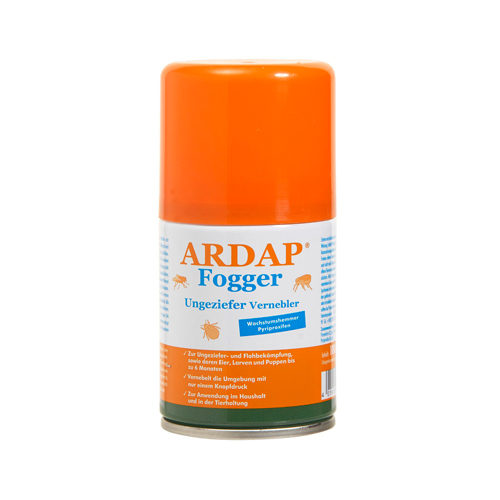 Free veterinary advice
Free delivery on orders over £59
More than 10,000 products available
Free returns *
Product Description
Ardap Fogger
The Ardap Fogger kills adult fleas and flea larvae in your pet's environment and also prevents the further development of flea eggs and flea larvae. This quickly kills fleas and other pests and this product also blocks the development of eggs and larvae for 6 months. This allows you to keep your house free from fleas and pests. Approximately 95% of the fleas are in your pet's environment, which is why is it really important to treat your house as well. Ardap Flogger is effective against fleas, flies, ticks, mites, lice, moths and spiders.
Use
Place the Fogger upright in the centre of a room at an elevated level, such as on a table or chair. The best way to do this is by placing the spray on a piece of newspaper. You then press the spray button until you hear a click and leave the room closed for 2 hours. Pets should not be allowed in the room either. After 2 hours, ventilate the room for at least 1 hour. The Ardap Fogger works quickly and gradually spreads around the room. The 100ml can be used for a room of up to 30m² and the 200ml for a room of up to 60m².
Active substance
Permethrin and Pyriproxyfen
Reviews
Have you used Ardap Fogger before? Let us know what you think about this product.
Write a Review