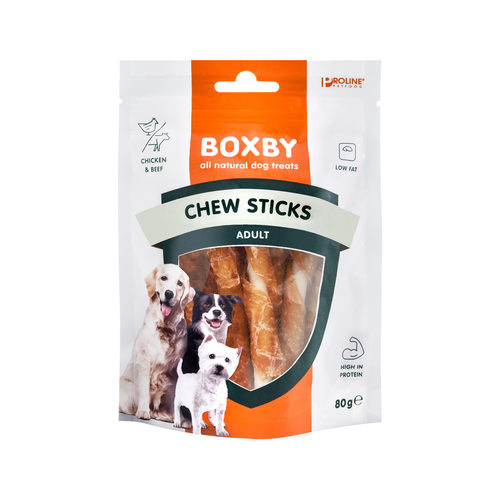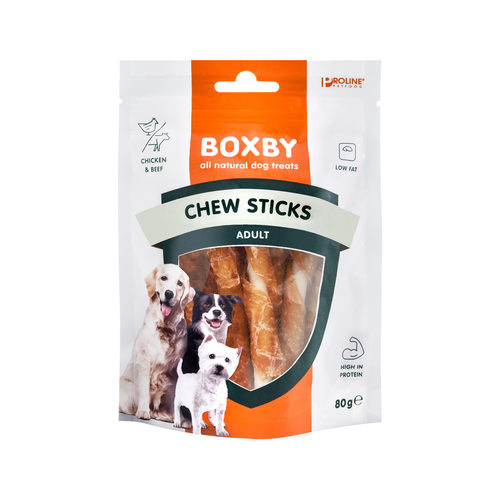 Boxby Chew Sticks Chicken
The Boxby Chew Sticks have a delicious chicken and beef flavour. The bones are high in protein, low in calories and beneficial for dental health.
Boxby Chew Sticks Chicken - 80 g
Boxby Chew Sticks Chicken - 80 g

£3.50

Boxby Chew Sticks Chicken - 3 x 80 g

£9.50
In stock - Order before 5pm and have it shipped the next working day
Due to the new Brexit measures, we're currently unable to ship this product to our customers in the United Kingdom. We're working hard on a solution so you can once again order your favourite products. Thank you in advance for your patience and understanding.

Free delivery - on orders over £59
Delivery charge: £4.50 on orders up to £59
Free veterinary advice
Free delivery on orders over £59
More than 10,000 products available
Free returns *
Product Description
Boxby Chew Sticks Chicken
It's time to spoil your dog again! These Chew Sticks made by Boxby are delicious and full of chicken and beef. The chew sticks are wrapped in dried meat. Especially beneficial for the teeth! In addition, they contain a lot of protein and have a low fat content. Also very suitable for dogs that are on a diet.
Features
With chicken and beef flavour
Rich in protein
Good for the dentition
Low fat
Flavour
Chicken and beef
Contents
80 grams / 3 x 80 grams
Composition
Meat and animal derivatives (67% chicken), raw skin (30%), oils and fats, vegetable derivatives, minerals.
Analytical constituents
Moisture 18%, crude protein 85%, crude oil and fats 4%, crude ash 3%, crude fibre 1%.
Reviews
Have you used Boxby Chew Sticks Chicken before? Let us know what you think about this product.
Write a Review