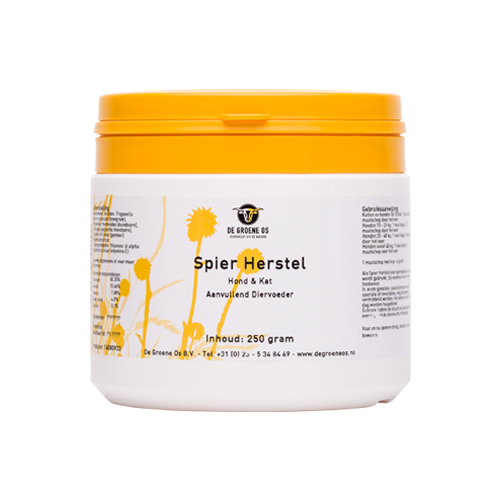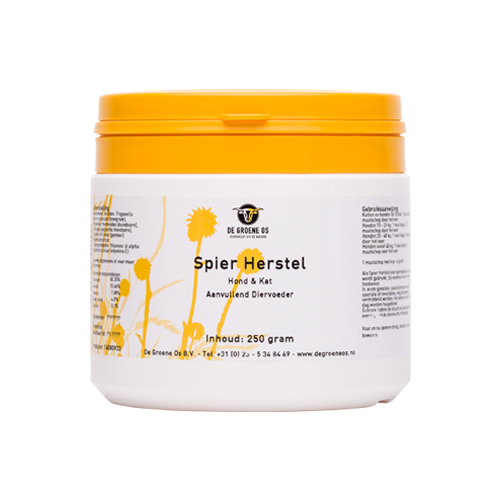 Groene Os Muscle Recovery - Dog/Cat
Groene Os Muscle Recovery is a natural food supplement that contributes to the recovery of the muscles after exertion. When they recover, the muscles get stronger and the stiffness is reduced, allowing your dog or cat to move with more flexibility.
Groene Os Muscle Recovery - Dog/Cat - 250g
Groene Os Muscle Recovery - Dog/Cat - 250g

£34.75
In stock - ordered before 8pm, same day dispatch
Add to Basket
Keep me informed
Free delivery - on orders over £59
Delivery charge: £3.95 on orders up to £59
Professional veterinary advice
Free delivery on orders over £59
Choose from over 10,000 products!
Free returns *
Product Description
Groene Os Muscle Recovery
Groene Os Muscle Recovery is a natural food supplement. It's a combination of different types of algae, herbs and nutrients that support a good health. When animals exercise a lot, their muscles can get stiff. This prevents damage to the muscles. Different nutrients are required for recovery. Recovery is important because it makes the muscles stronger. Amino acids and Vitamin C play an important role in this. These vitamins help dispose of waste materials and therefore promote recovery. Your dog or cat will suffer less from stiffness and be able to move more flexibly. This also makes this product suitable to give to older dogs and cats.
Key features
Algae powder is rich in amino acids and antioxidants. This is necessary for muscle recovery, an increase in muscle mass and to dispose of waste materials
Hawthorn is good for blood circulation and can therefore exert a positive influence on your pet's stamina
Fenugreek is a herb that supports the digestive and immune systems
Buckthorn is a natural multivitamin. It supplies Vitamin C, among other nutrients
Magnesium citrate is needed for a healthy muscle function. It promotes a normal muscle tension
Ginger supports the absorption of vitamins and minerals
Vitamin E supports the stamina and helps the muscle recovery
Use
| | |
| --- | --- |
| Weight | Amount mixed with food |
| Cats and dogs up to 10kg | 0.25 scoops once daily |
| Dogs 10 - 25kg | 0.5 scoops once daily |
| Dogs 25 - 40kg | 1 scoops once daily |
| Dogs weighing 40kg or more | 1.5 scoops once daily |
1 scoop = 4 grams. Give Muscle Recovery after training to promote muscle building and recovery. For recovery after surgery or rehabilitation, the dosage can be doubled and administered twice daily. If your dog or cat is pregnant or lactating, please consult your veterinarian before use. Keep the product in a dry, cool and dark place after opening.
Composition
Algae powder, Crateagus oxycantha (hawthorn), Trigonella foenum-graecum (fenugreek), Hippophae rhamnoides (buckthorn), magnesium citrate, Zingiber officinale (ginger), Vitamin E (D-alpha tocopherol acetate).
Reviews
Have you used Groene Os Muscle Recovery - Dog/Cat before? Let us know what you think about this product.
Write a Review