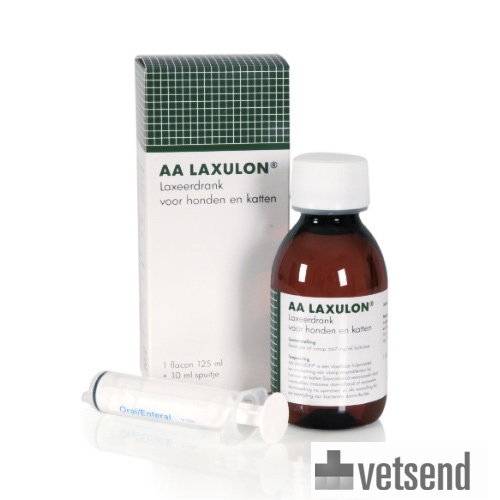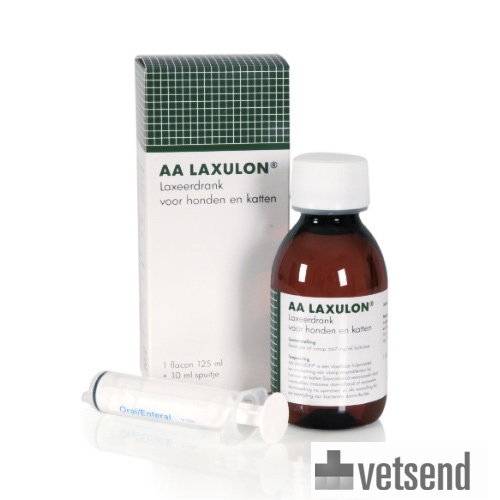 AA Laxulon
AA Laxulon is a supplement for cats and dogs to encourage bowel function and prevent constipation.
AA Laxulon - 125ml
£10.21
In stock - ordered before 8pm, same day dispatch*
Add to Basket
Keep me informed

Free delivery - on orders over £59
Delivery charge: £3.95 on orders up to £59 Be noticed: delayed delivery possible due to corona
Be noticed! Delayed delivery due to corona
Free delivery on orders over £59
Choose from over 10,000 products!
Free returns *
Product Description
AA Laxulon is the same as Laxatract but is not branded
AA Laxulon is a supplement for cats and dogs to stimulate bowel function. Lactulose belongs to the group of so-called osmotic action laxatives (medication to prevent constipation). In the colon, lactulose is converted into specific substances that stimulate and regulate natural bowel function, resulting in the formation of a natural stool. It may take several days before the desired action occurs.
AA Laxulon is a liquid formula designed to stimulate bowel function in dogs and cats.
Composition
Contents (per ml of syrup): 667 mg / ml lactulose.
Directions for use and dosage:
Laxulon is safe to use in accordance with the recommended dosage and can be mixed with food or drinking water, or administered directly into the mouth.
Dosage to prevent constipation problems:
3 ml per 5 kg of body weight once daily.
Dosage to support the fight against bacterial bowel infections:
3 ml per 5 kg of body weight, 3 times daily.
Always consult your veterinarian if the symptoms worsen or do not improve.
Please note
Push the syringe firmly into the bottle opening.
Reviews
Have you used AA Laxulon before? Let us know what you think about this product.
Write a Review
Solved my Siamese cats problem immediately, healthy 15 year old cat again, thanks
Excellent product, does exactly what it said. I now have a happy cat again.
excellent product, I highly recommend
Great product it does what is says ive got one happy cat back to her normal self fantastic price what more could you ask for .
I am only writing this review because it is an excellent product. I have been giving it to an older terrier and it has improved almost every function. she seems much younger and happier since I started giving her tthis stuff. Worth trying certainly.