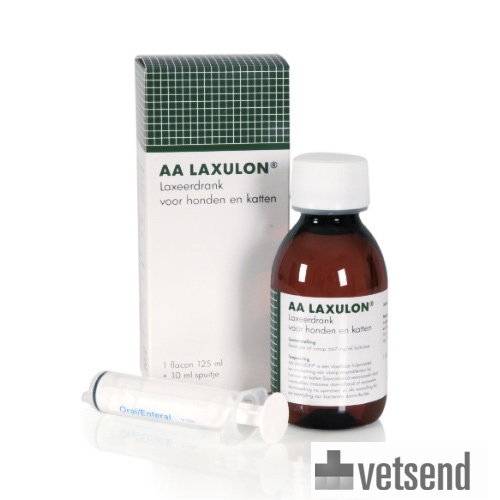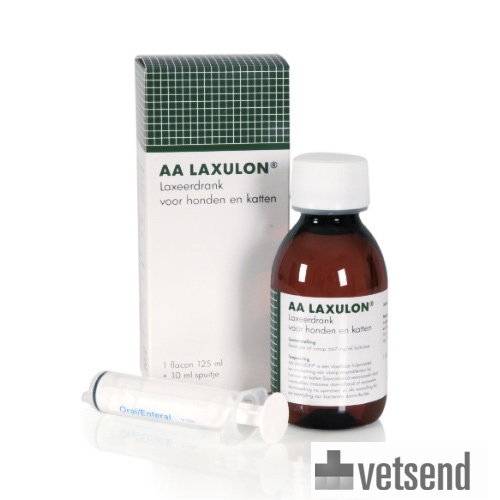 AA Laxulon
AA Laxulon is a supplement for cats and dogs to encourage bowel function and prevent constipation.
AA Laxulon - 125ml
£13.25
In stock - delivery: 1-2 weeks (due to COVID-19)
Due to the new Brexit measures, we're currently unable to ship orders to our customers in the United Kingdom. We're working hard on a solution so you can once again order your favourite products. Thank you in advance for your patience and understanding.

Free delivery - on orders over £59
Delivery charge: £3.95 on orders up to £59
Free veterinary advice
Free delivery on orders over £59
More than 10,000 products available
Free returns *
Product Description
AA Laxulon is the same as Laxatract but is not branded
AA Laxulon is a supplement for cats and dogs to stimulate bowel function. Lactulose belongs to the group of so-called osmotic action laxatives (medication to prevent constipation). In the colon, lactulose is converted into specific substances that stimulate and regulate natural bowel function, resulting in the formation of a natural stool. It may take several days before the desired action occurs.
AA Laxulon is a liquid formula designed to stimulate bowel function in dogs and cats.
Composition
Contents (per ml of syrup): 667 mg / ml lactulose.
Directions for use and dosage:
Laxulon is safe to use in accordance with the recommended dosage and can be mixed with food or drinking water, or administered directly into the mouth.
Dosage to prevent constipation problems:
3 ml per 5 kg of body weight once daily.
Dosage to support the fight against bacterial bowel infections:
3 ml per 5 kg of body weight, 3 times daily.
Always consult your veterinarian if the symptoms worsen or do not improve.
Please note
Push the syringe firmly into the bottle opening.
Reviews
Have you used AA Laxulon before? Let us know what you think about this product.
Write a Review
My 21 year old cat has struggled with constipation despite many trips to the vet who basically recommended changes to a fully wet diet and increase his water intake. I use 1 mL twice daily in his food and it's 100% done the trick. He enjoys his food and hasn't noticed anything different. Now I have a happy, old boy who seems generally more active too. It takes a day or two to kick in but all good after that. I'd highly recommend.
It's exactly what my cat needs to keep his bowels healthy. Gentle and perfect.
I find AA Laxulon an excellent product which has been a lifeline for my beautiful cat Elsa. With out AA Laxulon Elsa would have had serious health problems. I am so thankful that I found a medication that suits Elsa's well being.
Very effective treatment, with speedy delivery and easily ordered.
After a £300 vet bill and some worrying times with a cat being sick and losing appetite, it was discovered that my furry cherub suffers from hard stools resulting in constipation. This product , which I add to her food periodically has solved the problem , resulting in a happy house kitty ????
Its an excellent bowel stimulator- for cats! - it doesn't interfere with the taste of the food. My cat refuses all processed food and this goes on his poached fresh foods which he eats with no fuss at all. The outcome is just as required.