Horses
Your horse or pony is your best friend, and that's why you only want what's best for your horse. Whether you are looking for delicious horse feed or some supplements to keep your horse healthy, you'll find it all at Vetsend.co.uk
Read more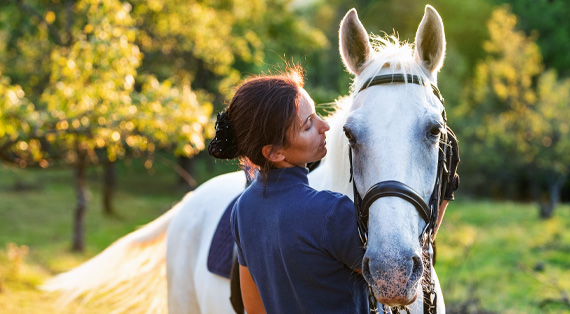 Everything for your horse
Popular products for your horse
Everything for your horse
Horse Feed
There is a lot of different horse feed so it's easy to get confused. It can be tricky trying to figure out what feed is best for your horse. Other than roughage like grass and hay, many horse owners provide their horses with concentrate feed. What type of concentrate you should get, depends on your horses' age, breed and what you use him for. At Vetsend, you'll find different concentrates from brands like Cavalor and Pavo. Does your horse need some extra support? Have a look at the diet feed from Bonpard. These feeds are made for horses with health issues.
Medical Supplies for Horses
Protection against flies and horseflies
Many horse owners agree that there is nothing more irritating than flies and horseflies in the warm summer months. Being around your horse in summer is a treat, but this mood can get ruined with the many flies and horseflies trying to attack your horse. Luckily, you can support and help your horse with different supplements, special shampoos or the right fly mask and rug. At Vetsend, we like to help you find the perfect solution! Have a look at our flies and insects products
Supplements
Looking to give your horse a bit of extra support? At Vetsend, you'll find different supplements that help to uphold your horses' health. We also provide special for pregnant mares and foals.
Cooling down your horse
After a high-intensity workout, it's advisable to cool down your horses' legs to prevent tendon injuries. Have a look at our assortment of different cooling gels, clays and icepacks.
First aid kits and other medical products for horses
It is really important to give your horse the proper care when it comes to wounds and injuries. At Vetsend, we offer various products that help you to take care of your horses' medical needs..
Daily Supplies for Horses
Coat and hoof care for horses
Taking care of your horses' coat, mane, tail and hooves is the standard when you are a horse owner. Other than daily brushing, we also recommend washing your horse. At Vetsend, you'll find a wide arrange of products that help you take care of your horses' coat like brushes, shampoos, and shedding tools. Browse through our large assortment of horse care products. To keep the hooves in a good condition, it's important to take care of that as well. Grease the hooves regularly to prevent damages and pick your horses' hooves daily. This can prevent abscess and other infections.
Horse rugs
There are many horse rugs for all sort of situations. Think of rain rugs, fly rugs, stable rugs or winter rugs. These come in different variants and thicknesses as well. The brand Bucas offers rugs for medical problems, like the Bucas Recuptex Therapy Light Spine , a rug designed to treat horses with arthritis or back problems.
Toys for horeses
Want to prevent your horse from getting bored? Give him a toy! An example is the Jolly Ball. You can use this toy in a paddock or stable and it will give your horse some entertainment!
Other accessories
Are you looking for other accessories for your horse? Maybe a halter, lead rope, hay net, saddle pad or a fetlock protector? Have a browse through our daily supplies products and find the item you're looking for.