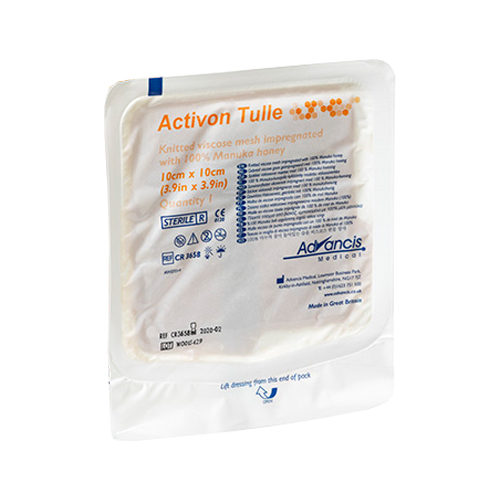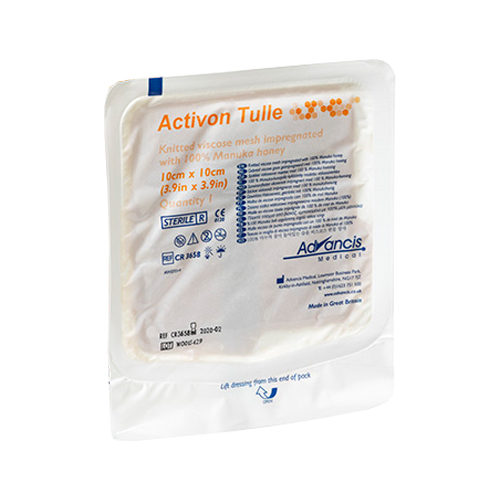 Activon Manuka Tulle Gauze Bandages
Manuka gauze bandages are viscose bandages with honey. The bandages create a moist wound environment and counter bad odours. They also stop unwanted micro-organisms and are ideal for superficial wounds.
Activon Manuka Tulle Gauze Bandages 5x5cm - 5 pieces
Activon Manuka Tulle Gauze Bandages 5x5cm - 5 pieces

£43.95
In stock - Order before 5pm and have it shipped the next working day
Add to Basket
Keep me informed

Free delivery - on orders over £59
Delivery charge: £4.50 on orders up to £59
Free veterinary advice
Free delivery on orders over £59
More than 10,000 products available
Free returns *
Product Description
Activon Manuka Tulle Gauze Bandages
Activon Manuka Tulle is a three-layer viscose gauze bandage soaked in 100% Manuka honey. It keeps the wound moist and counters bad odours. It is ideal for use on granulating and superficial wounds.
Key features
Three-layer bandage
With honey
Creates a moist wound environment
Counters bad odours
Effective against unwanted micro-organisms
For granulating and superficial wounds
Removes dead tissue
Recommended for
The gauze can be applied to any wound but is especially suitable for superficial and granulating (red) wounds.
Not suitable for
Do not use these bandages if your pet has an allergy to bee venom. In diabetic animals, we advise that you monitor the glucose levels, even though the honey does not enter the blood stream.
Use
Apply the bandages to the affected skin. For larger wounds, the bandages can be placed next to each other or cut to size. If you want to cover larger surfaces or reduce the amount of honey in the wound, you can fold out the gauze. Then apply a secondary bandage over the top.
Storage
Store the bandages at room temperature. If the product does get hard, you can warm it with your hands right before use. If the bandage is too liquid, you can put it in the fridge for a couple of minutes.
Contents
5 pieces
Composition
Three-layer viscose gauze bandages with 100% Manuka honey.
Reviews
Have you used Activon Manuka Tulle Gauze Bandages before? Let us know what you think about this product.
Write a Review