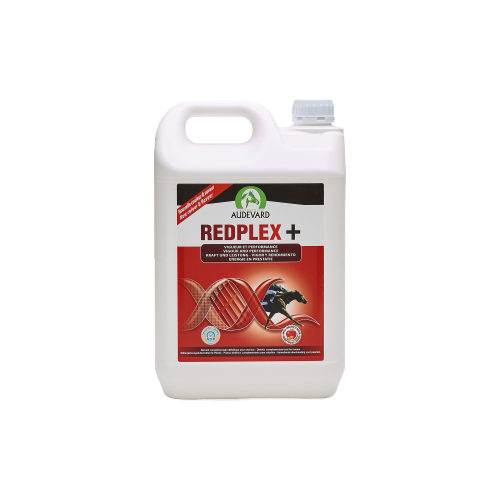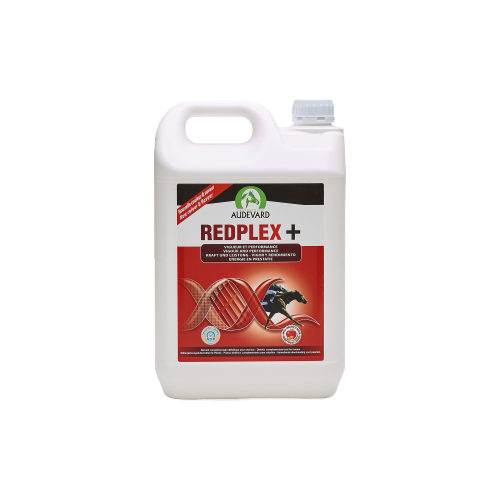 Audevard Redplex +
If your horse can use some extra support, Audevard Redplex is a suitable supplement. It gives extra strength and contains high concentrations of vitamins and trace elements. It can be used during competitions or recovery periods.
Audevard Redplex + - 1l
£19.95

£84.25
In stock - Order before 5pm and have it shipped the next working day
Add to Basket
Keep me informed

Free delivery - on orders over £59
Delivery charge: £4.50 on orders up to £59
Free veterinary advice
Free delivery on orders over £59
More than 10,000 products available
Free returns *
Product Description
Audevard Redplex
Redplex is perfect for horses in training and during the competition season. Redplex can also provide support during your horse's recovery. This formula has an apple-caramel flavour and contains no artificial colours. It provides your horse with the necessary vitamins and minerals that it needs during intense workout or when your horse is dieting or convalescing. If you want to support your horse all year roundBonutron Sport Pro, Bonutron Galop of Bonutron Endurance geschikter.
Properties
With high concentrations of iron, other vitamins and trace elements
Gives support during training and competitions
Gives support during a diet or recovery
Enriched with Angelica Sinensis extracts
More than 20 concentrated ingredients
Suitable as temporary support
Use
You give 30 to 60 ml daily until recovery is achieved (3 to 4 weeks). Shake well before use and pour over the food. You can also administer it directly into the horse's mouth..
Contents
1-litre bottle, sufficient for up to 33 days of use
5-litre container with a pump dispenser, sufficient for up to 167 days of use
Composition
Monopropyleenglycol, kaliumchloride, magnesiumchloride.
Additives (per litre)
Aromatic substances: angelica (Angelica sinensis - ext.) 6.887 ml.
[i]Vitamins, provitamins and substances with an analogous effect : : vitamin A 870,000 IU, vitamin D3 120,000 IU, choline chloride 6,900 mg, pantothenic acid B5 1,670 mg, vitamin E 1,200 mg, vitamin B1 1,030 mg, vitamin B2 870 mg, vitamin B6 270 mg, folic acid 245 mg, vitamin C 200 mg, vitamin B12 4 mg, biotin 0.5 mg.
Trace elements : iron (sulfate and chelate) 11,000 mg, zinc (sulfate and chelate) 3,850 mg, E4 copper (sulfate and chelate) 1,330 mg, manganese (sulfate and chelate) 1,330 mg, selenium (E8 selenite and Selplex®) 23 mg, potassium iodide 10 mg, potassium iodide 10 mg, potassium iodide 10 mg, potassium iodide 10 mg, Selplex®).
Analytical Constituents
Moisture 91.1%, crude protein 1.4%, crude fat 0.3%, crude ash 3.7%, crude cellulose 0.01%, potassium 0.35%, magnesium 0.07%.
Reviews
Have you used Audevard Redplex + before? Let us know what you think about this product.
Write a Review