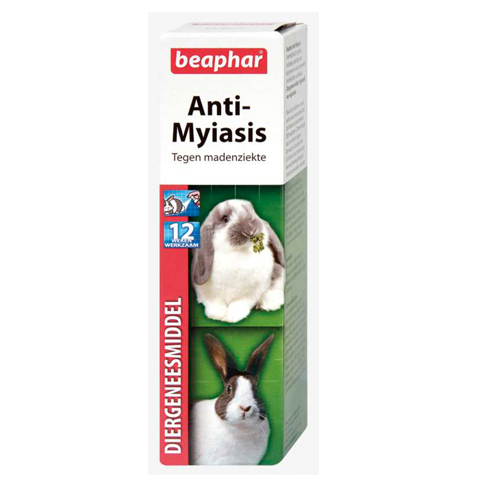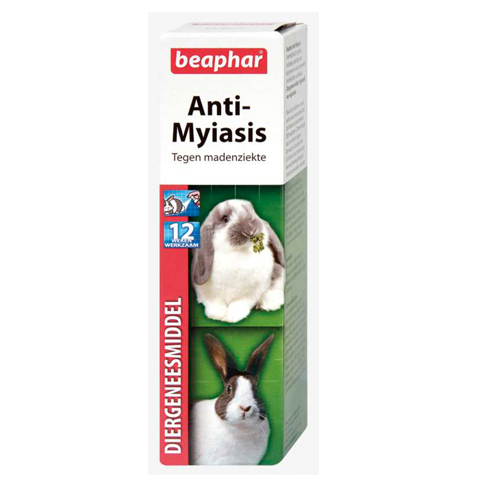 Beaphar Fly Guard (Anti-Myiasis)
Free veterinary advice
Free delivery on orders over £59
More than 10,000 products available
Free returns *
Product Description
Myiasis
Myiasis, also known as Flystrike, is caused by the common green bottle fly (Lucilia sericata). The fly is attracted by warm, moist places like a rabbit's backside, especially when this area is covered in sticky excrements. The fly then lays eggs on the skin, in open wounds, in the coat or in any other available nook, and the maggots, which hatch within two days, eat their way through the skin and underlying tissue. As the skin becomes more and more damaged, an infection builds and a parasitic infestation in live animals can be the result. The damage can be irreversible for pets. Flystrike can occur in both guinea pigs and rabbits. Myiatic flies are generally more active during warmer periods.
Beaphar Fly Guard (Anti-Myiasis)
Fly Guard by Beaphar is a skin spray for rabbits and guinea pigs that helps prevent and combat Myiasis. The product contains the active ingredient Ivermectin (0.5mg/ml).
Instructions
Remove any excrements before applying the Fly Guard and ensure the hutch is clean and hygienic. Spray the right amount (use the table below) onto your pet's backside, from the halfway down its back to the tip of its tail. Don't forget the areas underneath the tail and between the back legs. These require extra attention. To use Fly Guard preventatitively, start early in the summer before there are any flies around. Be aware that grooming and washing can inhibit the effectiveness of the product. If this is the case, use Fly Guard more frequently.
Working time: Effective for up to twelve weeks. Do not repeat treatment within four weeks.
Dosage
| | |
| --- | --- |
| Body Weight | Number of Pumps |
| 0.5 - 1.0 kg | 5 |
| 1.0 - 1.5 kg | 7 |
| 1.5 - 3.0 kg | 9 |
| > 3.0 kg | 15 |
Please note: This product only kills the eggs and maggots of Myiatic flies, not the adult fly itself. If you see any maggots on or around your pet, contact your veterinarian straight away.
Not suitable for:
Do not use on rabbits and guinea pigs younger than eight weeks old.
Do not use on damaged skin.
Do not use on sick or weak and suckling animals
Do not use on other animals, especially turtles, tortoises and dog breeds such as collies, Old English sheep dogs, shelties and bobtails.
Do not use in the case of allergic reactions to the active ingredient (Ivermectin).
Safety measures before use
Avoid contact with skin and eyes
Wear gloves during use
Upon contact with skin and eyes, rinse with water immediately
Do not eat or smoke during use
Keep out of reach of children
Keep in original packaging at room temperature (25ºC)
Packaging
Contents 75 ml
Composition
Active ingredient: Ivermectin 0.5 mg/ml
Reviews
Have you used Beaphar Fly Guard (Anti-Myiasis) before? Let us know what you think about this product.
Write a Review