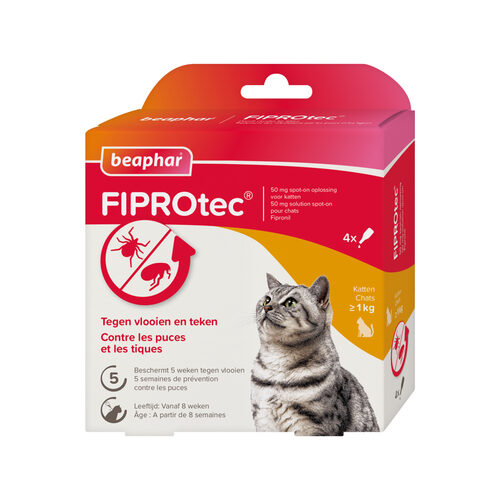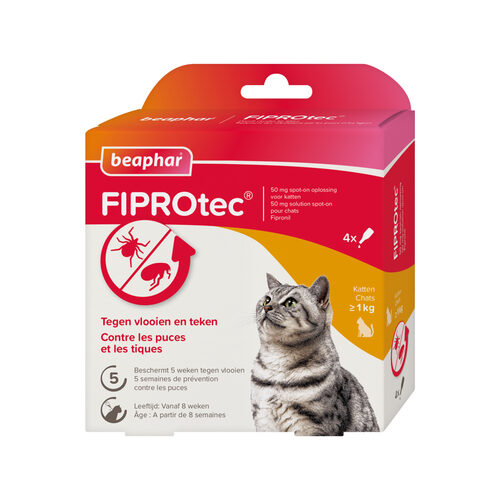 Beaphar FiproTec Spot-On for Cats
Unfortunately, the Beaphar FiproTec Spot-On for Cats is not available for sale anymore. Please have a look at our entire fleas and ticks range for alternatives.
Free veterinary advice
Free delivery on orders over £59
More than 10,000 products available
Free returns *
Product Description
Leaflet
Product Description
Please note: Fiprotec Spot-On for Cats will change packaging and contains 1 additional pipette (3+1). This will mean that you will receive 1 additional pipette for the same price!
Beaphar FiproTec Spot-On for Cats
Fleas and ticks are annoying little creatures. Fleas cause a lot of itching, while ticks burrow themselves into the skin, suck blood and can transmit diseases. With FiproTec from Beaphar, you can protect your cat against these small insects. The spot-on pipettes contain Fipronil, an effective agent against fleas and ticks. One pipette of FiproTec protects your cat from fleas for up to 5 weeks, and supports tick protection.
Use
1 pipette of 0.5 ml per cat.
Packaging
A pack of Beaphar FiproTec contains 3 pipettes.
Not suitable for
Rabbits
Active substance
Fipronil
This product is sourced from genuine veterinary wholesalers in the Netherlands. Because of this, these items may be delivered in Dutch packaging. Besides the language on the packages, this product does not differ from the UK product in any other way.
Reviews
Have you used Beaphar FiproTec Spot-On for Cats before? Let us know what you think about this product.
Write a Review
Does not work and certainly not for the 4wks stated on the instructions, only a slight relief for 2-3wks, then I'm struggling to wait nearly 2wks before using it again, as my yr old kitten is suffering again, inexpensive yes, but not in the long run, when more expensive and common brands have lasted 2-3mths, difficult to open, and clearly not enough of it in the pipette, as the saying goes "buy cheap, buy twice, I will be returning to a better known, reliable brand, for the sake of my poor, cute kitten.