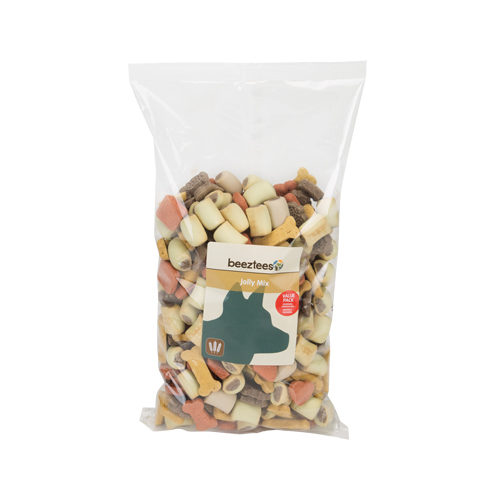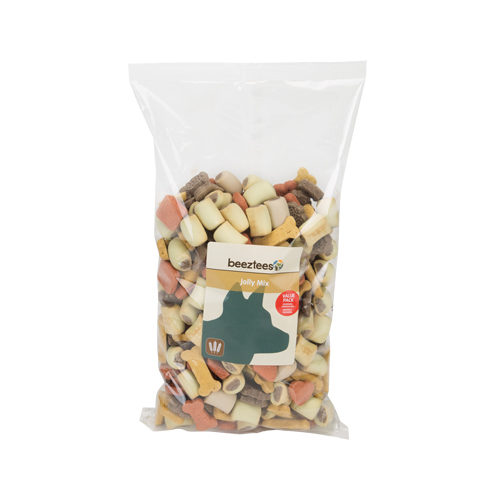 Free Mystery Box
Beeztees Jolly Mix
Beeztees Jolly Mix is a tasty snack mix for your dog. Thanks to the many different types of snack in the mix, your dog will always have a different taste experience. You can give this mix as a treat, but it can also be given as a tasty snack
Get a free mystery box by spending a minimum of £39*
Beeztees Jolly Mix
Beeztees Jolly Mix

Free Mystery Box

£4.38
In stock - delivery: 2-4 working days
Add to Basket
Keep me informed

Free delivery - on orders over £59
Delivery charge: £3.95 on orders up to £59
Free Vetsend Mystery Box
Free delivery on orders over £59
Delivery: 2-4 working days
Free returns *
Product Description
Promotion
Product Description
Beeztees Jolly Mix
Beeztees Jolly Mix is a value pack with all kinds of different snacks. The different ingredients allows your dog to taste all of the different delicious flavours. This will be a real taste sensation for your dog! You can use this mix as a treat, but also as a normal snack.
Contents
1,510 grams
Ingredients
Wheat 85%, meat and animal byproduct, oils and fats, vegetable byproducts, minerals and sugars.
Promotion
World Animal Day at Vetsend!
Get a free Mystery Box by spending £39*
If you ask us, the best day of the year is World Animal Day! It's almost 4 October, so you might want to start thinking about how you want to celebrate this special day. Does your pet need a new place to sleep? Or will a bunch of new toys and treats make your buddy the happiest boy or girl? World Animal Day is the perfect opportunity to give your pet some extra love. At Vetsend, we're joining in on the fun with a mystery box! This box contains a variety of items that your dog or cat will absolutely love!
Get your own free mystery box by spending a minimum of £39 (*excl. shipping fees) on our website! The offer is valid from 28 September to 4 October (while stocks last).
Reviews
Have you used Beeztees Jolly Mix before? Let us know what you think about this product.
Write a Review