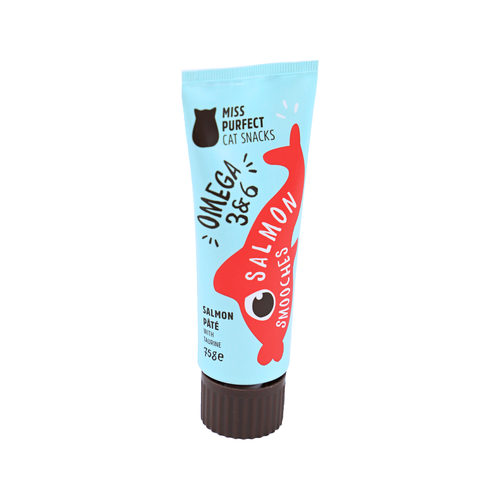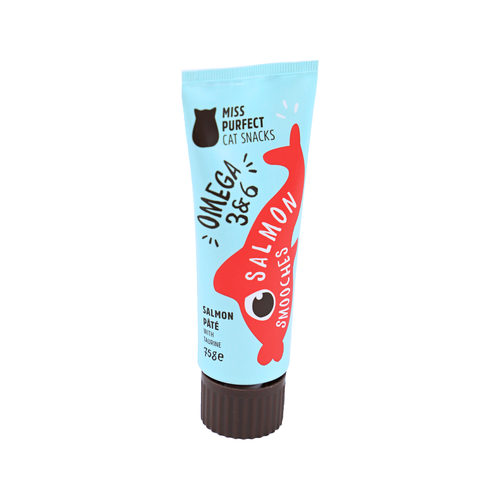 Miss Purfect Salmon Pâté Tube
The Miss Purfect Salmon Pâté Tube contains a delicious salmon paste for your cat. The tube is very practical to use during a grooming session or to teach your cat tricks.
Miss Purfect Salmon Pâté Tube
Miss Purfect Salmon Pâté Tube

£3.25
In stock - delivery: 1-2 weeks (due to COVID-19)
Due to the new Brexit measures, we're currently unable to ship orders to our customers in the United Kingdom. We're working hard on a solution so you can once again order your favourite products. Thank you in advance for your patience and understanding.

Free delivery - on orders over £59
Delivery charge: £3.95 on orders up to £59
Free veterinary advice
Free delivery on orders over £59
More than 10,000 products available
Free returns *
Product Description
Miss Purfect Salmon Pâté Tube
This Salmon Pâté Tube from Miss Purfect has a delicious salmon flavour and is grain-free. The paste can be used during a grooming session, for training sessions, to administer medication or simply given as a treat. The paste is rich in omega 3 & 6 and contains taurine.
Key features
Salmon-flavoured
Rich in omega 3 & 6
Contains taurine
Grain-free and easy to digest
Ideal to administer medication
Easy to use while training your cat
Directions for use
The Miss Purfect Salmon Pâté Tube is very hygienic and easy to use. Hold the tube in front of your cat while grooming. This way your cat will associate grooming with a pleasant experience. The paste can also be given as a treat or be used to administer medication. Wrap the medication in some of the paste or mix it through your pet's food. After using, store the tube in the refrigerator.
Flavour
Salmon
Contents
75g
Composition
Fish and fish derivatives (salmon 35%), oils and fats, derivatives of vegetable origin.
Analytical constituents
Moisture 70.9%, crude protein 8.4%, crude oil and fat 15.6%, crude ash 1.3%, crude fibre 1%.
Reviews
Have you used Miss Purfect Salmon Pâté Tube before? Let us know what you think about this product.
Write a Review