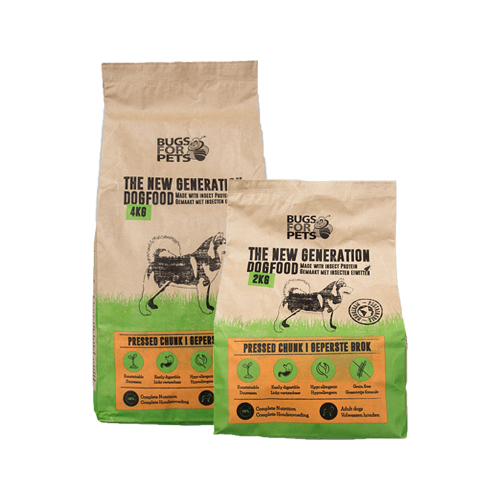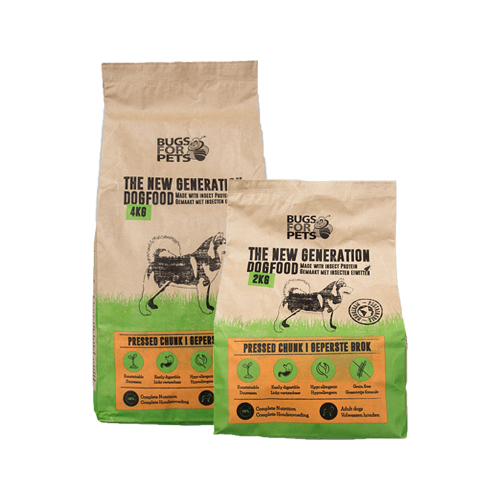 BugsforPets Dog - Pressed Dry Food
The dog food from BugsforPets contains a single protein source, insects. By using 1 protein source, this food supports pets with food hypersensitivity and/or allergies. The food is also pressed, meaning the ingredients are not affected and will not be lost.
BugsforPets Dog - Pressed Dry Food - 4kg
BugsforPets Dog - Pressed Dry Food - 2kg

£20.25

BugsforPets Dog - Pressed Dry Food - 4kg

£33.75

BugsforPets Dog - Pressed Dry Food - 10kg

£69.25
In stock - Order before 5pm and have it shipped the next working day
Due to the new Brexit measures, we're currently unable to ship this product to our customers in the United Kingdom. We're working hard on a solution so you can once again order your favourite products. Thank you in advance for your patience and understanding.

Free delivery - on orders over £59
Delivery charge: £4.50 on orders up to £59
Free veterinary advice
Free delivery on orders over £59
More than 10,000 products available
Free returns *
Product Description
The composition of BugsforPets Dog - Compressed Chunk has been improved! The diet still contains only one single protein source and one single fat source. This means that this food remains suitable for sensitive dogs or an elimination diet.
BugsforPets Dog
BugsforPets is a Dutch family business that specialises in animal food based on insects. The dog food from BugsforPets contains a single protein source, insects. In Europe, insects are rarely used as a source of protein in pet food. This means that the risk of your dog has developed an allergy to insects is very small. Hypersensitivity to food means that the dog has a(n) (excessive or allergic) reaction to specific ingredients in the food.
Key benefits
Insect protein as the only source of protein
100% Dutch product
Insect meal as a highly sustainable protein source
Free from wheat gluten and chemical colourings and flavourings
Is pressed and not extruded
The protein is easily digestible and highly suitable for dogs with sensitive intestines
Pressed dry food
An important fact about the food is that it is pressed and not extruded. The difference between these two techniques is in the temperature. When pressing, the food is produced at a lower temperature, while extruding it requires a much higher temperature. The low production temperature for pressing prevents the ingredients from being affected or lost, something that can happen when processing foods at higher temperatures, such as extrusion.
Sustainability
The processing of the Black Soldier Flies in the BugsforPets dog food takes place in the Netherlands. The BSF fly has a life cycle of just 8 weeks. In addition, the number of litres of water needed to produce proteins from the meat of this fly is very low. To process in 1 kg of protein from the BSF flies, about 8 litres of water are used, where 8350 litres of water are needed to gain 1 kg of protein from cows. The BSF larvae are cultivated exclusively with vegetable materials, under GMP+ certification by an NVWA accredited grower.
Kibble size
6 mm
Composition
Soluble potato, insect meal (22%), soluble peas, soluble sweet potato, locust bean meal, monocalcium phosphate, coconut fat, sunflower oil, chalk.
Reviews
Have you used BugsforPets Dog - Pressed Dry Food before? Let us know what you think about this product.
Write a Review