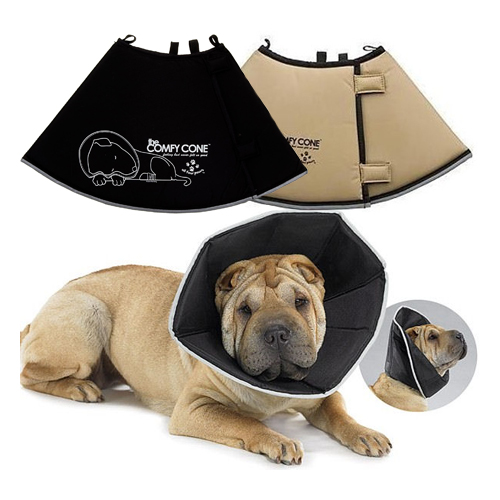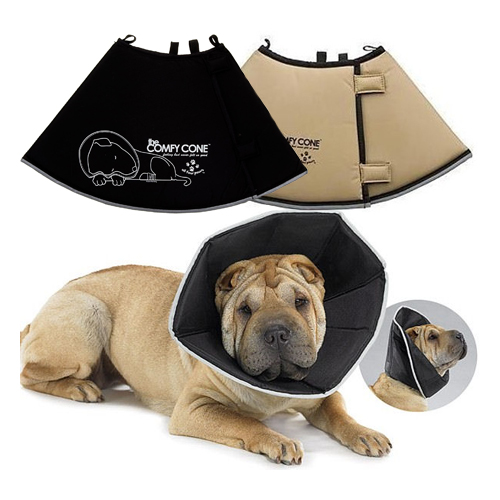 Comfy Cone
The Comfy Cone is a wearable, soft, tapered collar for your dog or cat. The Comfy Cone ensures that your pet cannot lick or bite healing wounds.
Comfy Cone M - Black
£14.75

£14.75

£14.95

£14.95

Comfy Cone S (long) - Black

£20.95

Comfy Cone S (long) - Khaki

£20.95

£21.95

£21.95

Comfy Cone M (extra long) - Black

£33.50

Comfy Cone M (extra long) - Khaki

£33.50

£27.75

£27.75

£34.75

£34.75

£52.75

£52.75
In stock - ordered before 8pm, same day dispatch
Add to Basket
Keep me informed
Free delivery - on orders over £59
Delivery charge: £3.95 on orders up to £59
Professional veterinary advice
Free delivery on orders over £59
Choose from over 10,000 products!
Free returns *
Product Description
Videos
Product Description
Comfy Cone
The Comfy Cone is a wearable, soft, tapered collar for your dog or cat. The Comfy Cone ensures that your pet cannot lick or bite healing wounds. Available in black and khaki, sizes XS to XXL. Comfy Cone has been tested by veterinarians and on anxious or aggressive dogs. Anxious and/or aggressive dogs generally felt calmer and less stressed because when wearing the Comfy Cone they were in their "own little space".
More rest, less stress
The collar is not transparent. The advantage of this is that your dog or cat will often be calmer wearing it. The dog or cat feels safe in their own little space. As a result, your pet feels generally calmer and less stressed, thus speeding the healing process.
Key features
Soft and comfortable for optimum protection
Made from laminated nylon with a robust foam layer
Can be folded, allowing the animal to eat and drink
Reversible in case one side gets dirty
Waterproof
Can be stored flat
Reflective trim for high visibility in the dark
Easy to put on without having to pull the cone over the head
Can be attached to a regular collar so that your dog cannot remove the cone
Adjustable Velcro fastening
Size advice
The main consideration when choosing the right size is the distance between the nose and neck. The collar has to extend beyond the nose, to prevent the animal from reaching its wound. The sturdy, adjustable Velcro strap can be adjusted to the size of the dog or cat. The best way to prevent the dog taking off the hood is to attach the Comfy Cone to the collar using the elastic loops supplied.
The Comfy Cone is available in the following sizes
It's important to know how to measure your pet properly to ensure that you purchase the right size. The How to determine the right size for my pet article offers insight and tips on the best way to do this!
Size XS and S are also suitable for cats!
| | | | |
| --- | --- | --- | --- |
| XS | 11 cm | 25 - 29 cm | Chihuahua-sized dogs and small cats |
| S | 14.5 cm | 28 - 32 cm | Maltese, Yorkshire Terrier and large cats |
| S (long) | 20 cm | 24 - 30 cm | For small dogs with long snouts, e.g. Dachshund, Jack Russel Terrier, Italian Greyhound |
| M | 21 cm | 32 - 40 cm | French bulldog |
| M (extra long) | 30 cm | 30 - 38 cm | For medium dogs with long snouts, e.g. Greyhounds |
| L | 26 cm | 40 - 48 cm | Australian shepherd, small Labrador |
| XL | 30.5 cm | 50 - 60 cm | Golden Retriever, large Labrador |
| XXL | 36.5 cm | 52-65 cm | German shepherd, Pyrenean Mountain Dog, Ridgeback |
What if the Comfy Cone does not fit?
Please note that, as we often receive returned products that are dirty or worn, we have the following conditions for exchanges and returns of the Comfy Cone. If Vetsend deems that the Comfy Cone is dirty, stained, worn, smells, contains animal hair or has been washed after use, we reserve the right to refuse a refund. In this case, we will not return the Comfy Cone to you, but it will be donated to a charity (local shelter).
Reviews
Have you used Comfy Cone before? Let us know what you think about this product.
Write a Review
Comfy and useful for anxious dog
If you have a dog that is prone to eye/ear infections and needs a cone often. If you would rather they were comfortable, as well as the walls in your house staying in tact. This is the cone - Soft but with rigid bars to keep it's shape, it's perfect.
Did exactly what it name suggest made our dog comfortable considering she had to wear a cone in the first place
Worked well but one reservation
The collar did what I wanted it to despite my worries that her neck which is longer and thicker than any collar on this website seemed able for, did indeed do the job. However this was just as well because no delivery note was included so I couldn't have returned it if it didn't fit!
Very pleased with the quality of this product and so much better than the usual harder plastic collars which my dog hates with a vengeance. Would highly recommend.
A product that turns heads!
We purcahsed this product due to eye surgery for our labrador; as an alternative to the hard plastic "lampshade". This is high quality product in every respect. The removeable stays are excellent and allowed the rim to be turned back for easier feeding. All the vets in our practice commented on what an excellent product Comfy Cone is and asked for details. For our needs at the time, this product was quite simply outstanding. I comend it without reservation.