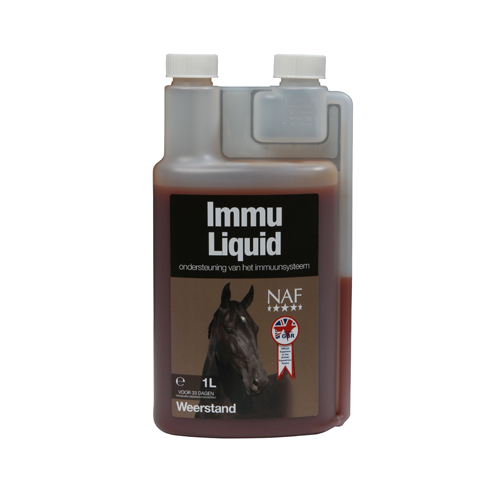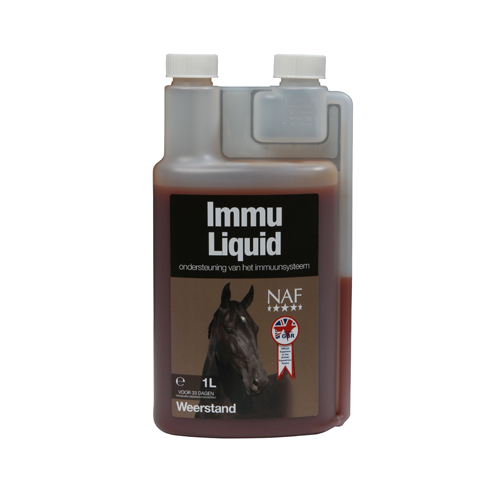 NAF Immu Liquid
NAF Immu Liquid is a liquid food supplement for horses and ponies. It is suitable for hard-working, travelling and competition horses. The liquid contains Echinacea (coneflower), a herb that supports your horse's immune system. Immu Liquid is available in a 1 litre bottle.
NAF Immu Liquid - 1L
£34.25
In stock - delivery: 2-4 working days
Add to Basket
Keep me informed

Free delivery - on orders over £59
Delivery charge: £3.95 on orders up to £59
Free veterinary advice
Free delivery on orders over £59
Delivery: 2-4 working days
Free returns *
Product Description
NAF Immu Liquid
The immune systems of horses and ponies that work hard, travel on a regular basis or face challenges can sometimes use a little help. With the Immu Liquid from NAF Equine, you can give your horse the support that its immune system needs at times. The animal food supplement contains ingredients including Echinacea. This herb is known for the promotion of the immune system. It also contributes to the health of the red blood cells. A lack of red blood cells may lead to anaemia. Please note: If immune system symptoms persist in your horse, you should always consult a veterinarian.
Dosage
Initial dosage (7 - 10 days): 40 - 60 ml daily.
Maintenance dosage: 15 - 30 ml daily.
Contents
1 litre
Composition
Water, methyl sulphonyl methane (MSM), glycerine, Astralagus tincture, Echinacea tincture, moisture, sodium.
Reviews
Have you used NAF Immu Liquid before? Let us know what you think about this product.
Write a Review