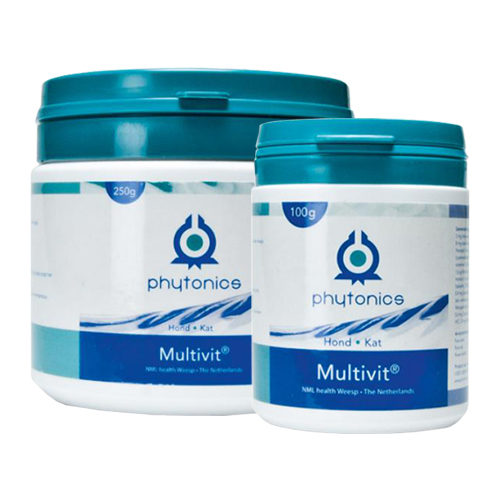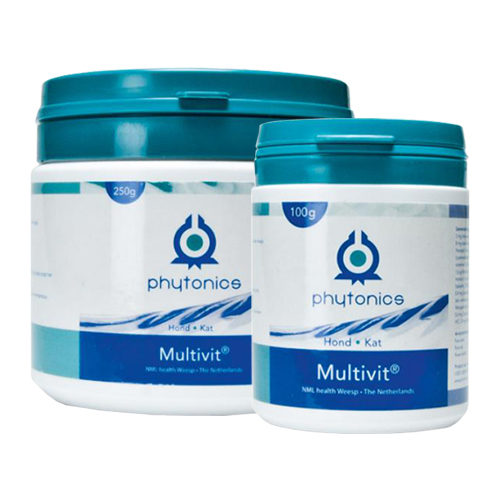 Phytonics Multivit for Cats & Dogs
Phytonics Multivit is a mix of vitamins and minerals as a supplement to your dog or cat's daily diet.
Phytonics Multivit - 250g
Phytonics Multivit - 100g

£17.50

Phytonics Multivit - 250g

£37.25
In stock - ordered before 8pm, same day dispatch*
Add to Basket
Keep me informed

Free delivery - on orders over £59 Be noticed! Delayed delivery due to corona
Delivery charge: £3.95 on orders up to £59 Be noticed! Delayed delivery due to corona
Be noticed! Delayed delivery due to corona
Free delivery on orders over £59
Choose from over 10,000 products!
Free returns *
Product Description
Phytonics Multivit
Phytonics Multivit is a balanced, easy to administer food supplement suitable for everyday use. This complex strengthens, improves vitality, stimulates endurance and increases performance. It has a beneficial effect on overall health and vitality. It supports and protects healthy cells and tissues, and the added minerals maintain acid-alkali balance (pH) and body hydration. Also suitable as a structural constituent of various tissues, as a constituent of certain enzymes and hormones, and as a catalyst in a number of bodily functions. The absorption of certain nutrients is promoted by minerals.
Suitable for
Dosage and application:
(unless otherwise advised by your veterinarian):
Dog/cat, once daily:
Cat: 0.5 scoops.
< 10 kg: 1.5 scoops.
10-25 kg: 3 scoops.
> 25 kg: 6 scoops.
1 scoop contains approx. 1 gram.
Administration
Can be mixed with normal food. If used with dry food, it is recommended that you moisten the powder so it is not blown out of the bowl.
Treatment duration
In acute situations, the treatment duration is relatively short. This may vary from a few days to 3 weeks. When you notice an improvement, continue to administer this product for a few more days. During long periods of discomfort, the effect is usually visible after 1 to 3 weeks. It is advisable to insert a stop week after every 6 to 8 weeks. The stimulus can be reintroduced after the stop week. Resume treatment immediately if symptoms worsen. This product can be given indefinitely.
Composition
Vitamin A, Vitamin B1, Vitamin B2, Vitamin B3, Vitamin B5, Vitamin B6, Vitamin B12, Vitamin C, Vitamin D, Vitamin E, Biotin, Citrus Bioflavonoids, Inositol, Folic Acid, PABA, Bamboo extract, Iodine, Calcium Citrate, Iron, Potassium chloride, Copper, Magnesium citrate, Manganese, Selenium, Zinc-L-methionine, Choline, MSM, Bentonite Montmorillonite.
Reviews
Have you used Phytonics Multivit for Cats & Dogs before? Let us know what you think about this product.
Write a Review
My little dog has more energy, a better appetite, and not as nervous as before using the supplement. It has made her a much happier dog alround, and it's also very palettable even with her fussy eating habits she never refuses to eat it in her dinner. I am so very pleased with this product, would highly recommend it.