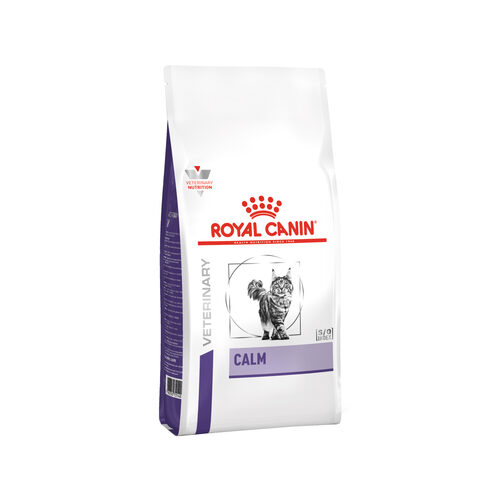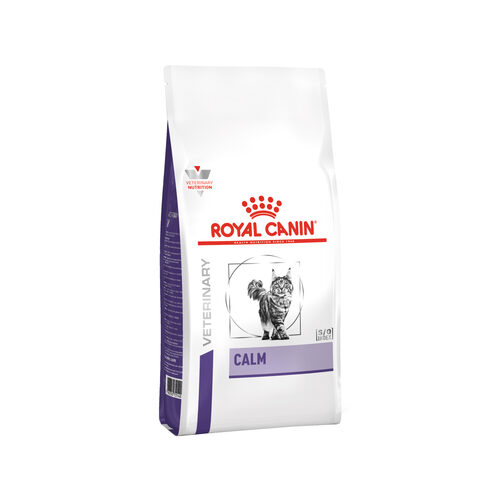 Royal Canin Calm Cat
Royal Canin Calm Cat is specially designed to reduce stress and stress-related symptoms in cats.
Royal Canin Calm Cat (CC 36) - 4kg
Royal Canin Calm Cat (CC 36) - 2kg

£29.95

Royal Canin Calm Cat (CC 36) - 4kg

£43.95
In stock - Order before 5pm and have it shipped the next working day
Add to Basket
Keep me informed

Free delivery - on orders over £59
Delivery charge: £4.50 on orders up to £59
Free veterinary advice
Free delivery on orders over £59
More than 10,000 products available
Free returns *
Product Description
Stressful situations
If your cat is showing signs of anxiety or a stressful situation is on the horizon, your vet may prescribe a special diet food. Royal Canin Calm was developed especially for cats in stressful situations. It can also be beneficial as a supportive treatment in combination with behavioural therapy. Royal Canin Calm Diet also helps to reduce the potential negative effects of stress on the digestive system and skin, and supports a healthy urinary tract.
Recommended for
Stressful situations (moving, holiday, DIY, introducing a new family member, fireworks)
Stress-related symptoms such as digestive disorders, skin problems and urinary malfunction
Behavioural therapy support for anxiety
Not suitable for
Royal Canin Calm Diet is not suitable for kittens or pregnant / nursing cats. This diet food is not suitable for cats with kidney or heart disease, or during the period before castration.
Key features
Alpha-casozepine has a calming effect, L-tryptophan has a positive effect on emotions including anxiety, fear, sleeping and eating. The special combination of amino acids and vitamins in Royal Canin Calm Diet supports skin metabolism, reduces the risk of skin irritations, and minimises water loss through the skin. Dietary fibre, in combination with easily digestible proteins optimises digestion and growth of intestinal flora. Through a combination of fermentable and non-fermentable fibres, the formation of hairballs is reduced. The risk of struvite and calcium oxalate stones forming is reduced by the undersaturation of the urine (low S/O index).
Advice
Royal Canin Calm Diet is a balanced, complete diet food that can be used indefinitely. Starting this diet 14 days before an anticipated stress situation is optimal. The food can, if necessary, be used for the duration of a cat's life, but it is recommended for 2 to 3 months use to begin with.
Ingredients
Dehydrated poultry protein, maize, rice, wheat gluten, maize gluten, hydrolysed animal proteins, vegetable fibre, animal fats, beet pulp, minerals, fish oil, psyllium seeds and husks, soya oil, fructooligosaccharides, borage oil, hydrolysed milk proteins, Tagetes (African) extract (source of lutein).
Additives
Nutritional supplements: Vitamin A, Vitamin D3, Iron, Iodine, Copper, Manganese, Zinc, Selenium. Tryptophan.
Preservatives and antioxidants.
For dogs, Royal Canin Calm Canine is available.
Reviews
Have you used Royal Canin Calm Cat before? Let us know what you think about this product.
Write a Review