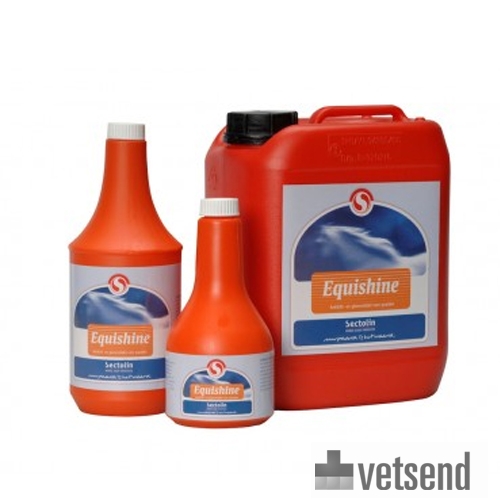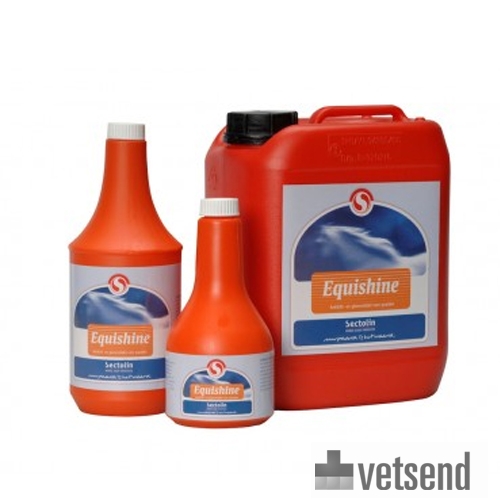 Sectolin Equishine
Sectolin Equishine is a detangler and brightener for horses. Effective for 8 to 10 days and provides a high gloss during this period.
Sectolin Equishine - 500ml
Sectolin Equishine - 500ml

£6.25

Sectolin Equishine Refill - 1L

£10.75

Sectolin Equishine Refill - 5L

£42.75
In stock - ordered before 8pm, same day dispatch
Add to Basket
Keep me informed
Free delivery - on orders over £59
Delivery charge: £3.95 on orders up to £59
Professional veterinary advice
Free delivery on orders over £59
Choose from over 10,000 products!
Free returns *
Product Description
Sectolin Equishine
Sectolin Equishine prevents tangles, is dirt-repellent, does not stain and can easily be washed off with shampoo. It does not affect any ointment or other liniments being used. Sectolin Equishine is available in 1 litre and 5 litre packs.
Administration:
It is recommended that you brush the horse well. Shake the Equishine well before use, then thinly and evenly spray on and brush with a soft brush. Do not use 4 to 5 days before braiding or where the saddle will be placed.
Do not expose to frost.
Please note: Keep out of reach of children
Reviews
Have you used Sectolin Equishine before? Let us know what you think about this product.
Write a Review