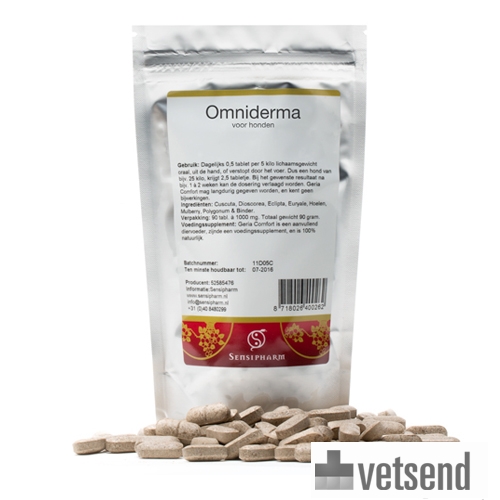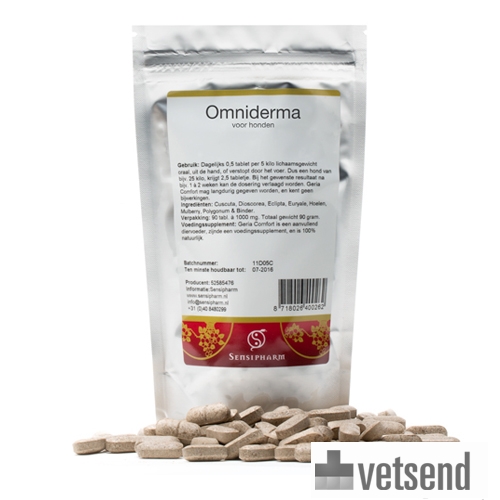 Sensipharm Omniderma for Dogs
Sensipharm Omniderma is a homoeopathic remedy for healthy skin and coat.
Sensipharm Omniderma for Dogs
Sensipharm Omniderma for Dogs

£43.95
In stock - delivery: 2-4 working days
Add to Basket
Keep me informed

Free delivery - on orders over £59
Delivery charge: £3.95 on orders up to £59
Free veterinary advice
Free delivery on orders over £59
Delivery: 2-4 working days
Free returns *
Product Description
Sensipharm Omniderma for Dogs
Omniderma is an animal food supplement for healthy skin, based on Chinese herbs. It prevents itching and assists in normalising moist skin in cases of wet eczema. Omniderma cools and nourishes the skin. Omniderma may be used to promote recovery from a sudden occurrence of skin complaints, with our without symptoms of oozing, redness, or scaling.
Recommended for:
Sudden skin complaints, accompanied by the excretion of fluid.
Advice
For dry eczema, we recommend Monoderma Dry 1,000 mg.
Warning:
Do not use in cases of diarrhoea or pregnancy.
Dosage:
One tablet taken orally for every 20 kg body weight, twice daily for two weeks. Results can be expected after 1-2 weeks.
Packaging:
90 x 1000 mg tablets. Total weight 90 grams.
Ingredients
Gypsum, Rehmannia (Raw), Tangkuei, Siler, Atractylodes Red, Schizonepeta, Arctium, Sophora, Anemarrhena, Sesame Seeds, Clematis Armandi, cicada, Liquorice, Binder.
The composition of each pellet within this item is the same. However, as this is a natural product, the colour, smell, taste and consistency (denseness) can vary per pellet. It does not contain any chemical additives such as gluten, yeast, colourings, flavourings or other preservative.
Reviews
Have you used Sensipharm Omniderma for Dogs before? Let us know what you think about this product.
Write a Review