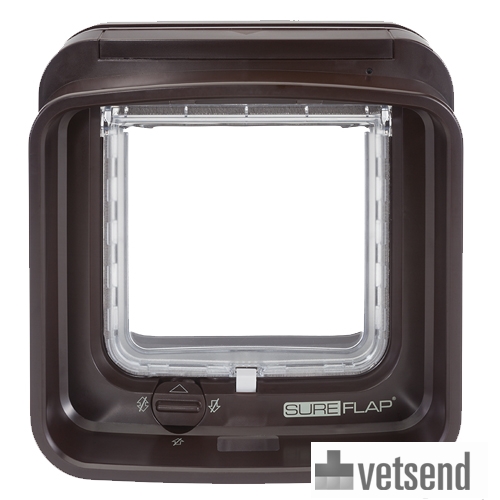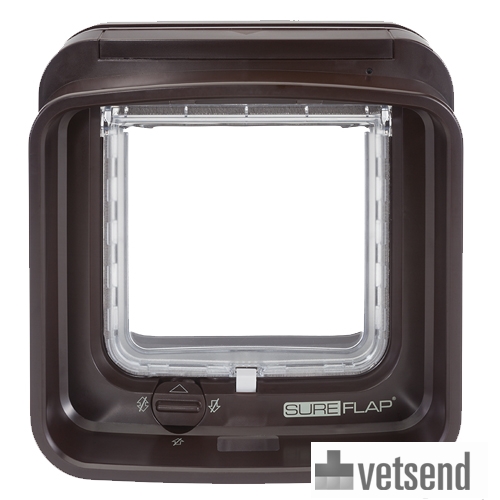 Sureflap DualScan Cat Flap
The DualScan Cat Flap from SureFlap prevents all unwanted visits from neighbourhood cats. You can also lock one or all of your own cats in (temporarily).
SureFlap DualScan Cat Flap - Brown
SureFlap DualScan Cat Flap - Brown

£109.75
Shipped after 3 working days
Add to Basket
Keep me informed

Free delivery - on orders over £59 Be noticed! Delayed delivery due to corona
Delivery charge: £3.95 on orders up to £59 Be noticed! Delayed delivery due to corona
Be noticed! Delayed delivery due to corona
Free delivery on orders over £59
Choose from over 10,000 products!
Free returns *
Product Description
SureFlap DualScan Cat Flap
The DualScan cat flap has an internal sensor which monitors every cat that wants to come in or out. If your cat is not microchipped, you can attach an RFID-Tag to its collar. Individual Microchips or tags can be linked to the SureFlap system, so your cat will always be recognised by the sensor. When the flap detects your cat, the magnetic catch is released and the cat can come inside. It can also be set to keep specific cats in or out.
Placement
If mounting in a door, no additional accessories are required other than the SureFlap Microchip Cat Flap itself.
To fix in glass, a Mounting Adapter is needed. This adapter ensures proper connection between the cat flap and glass. The round shape of the frame ensures optimal sealing of the flap. Using the adapter, the cat flap can be placed into holes with a minimum diameter of 212 mm and up to 260 mm. The total diameter of the mounting adapter is 285 mm.
If placing into a wall, it is also recommended you use the Mounting Adapter. As well as this, a Tunnel Extension is required. This depends on the thickness of the wall. The extension fits onto the standard SureFlap. The Tunnel Extension is 70 mm long and can be made 50 mm longer. If desired, the tunnel can be made even longer, by assembling several pieces one behind the other.
Please note
The RFID-Tag that may be required in order to use the SureFlap DualScan Cat Flap is not included. The SureFlap Catflap operates on 4 x AA batteries, which are also not included.
Dimensions
Cat flap passageway: 142 mm (w) x 120 mm (h)
Hole in door: 165 mm (w) x 171 mm (h)
Cat flap frame: 210 mm (w) x 210 mm (h)
Colours
Reviews
Have you used Sureflap DualScan Cat Flap before? Let us know what you think about this product.
Write a Review