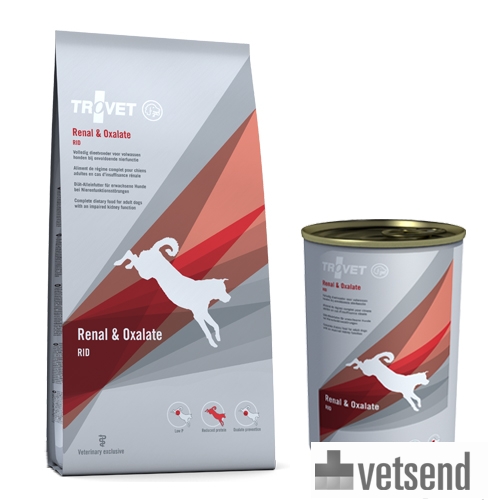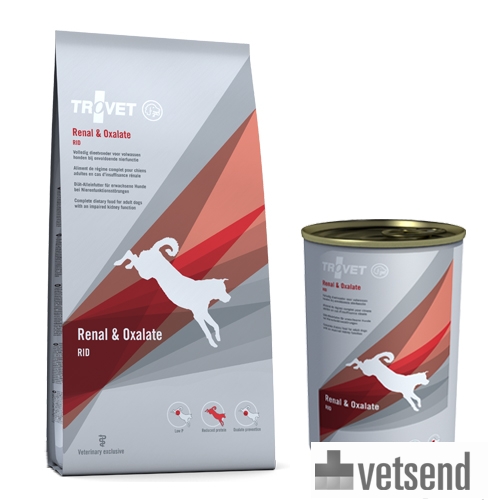 TROVET Renal & Oxalate RID Dog
TROVET Renal & Oxalate RID Dog is specifically designed for dogs with insufficient kidney function.
TROVET Renal & Oxalate RID Dog - 6 x 400g Tins
TROVET Renal & Oxalate RID Dog - 3kg

£16.75

TROVET Renal & Oxalate RID Dog - 12.5kg

£57.75

TROVET Renal & Oxalate RID Dog - 6 x 400g Tins

£15.25
In stock - ships in 3 days
Add to Basket
Keep me informed

Free delivery - on orders over £59
Delivery charge: £4.50 on orders up to £59
Free veterinary advice
Free delivery on orders over £59
More than 10,000 products available
Free returns *
Product Description
Renal insufficiency
Renal insufficiency is when the kidneys either fail or do not perform their intended functions sufficiently. These two main functions are filtering and removing waste (in particular, proteins) from the blood. In addition, the formation of urine takes place in the kidneys. If this process does not go well, the body can lose water, salts and nutrients.
TROVET Renal & Oxalate RID Dog
TROVET Renal & Oxalate RID Dog contains a limited amount of high quality protein so that the strain on the kidneys is reduced. The greatly reduced phosphorus content in TROVET Renal & Oxalate RID Dog contributes to slowing further decline in renal function. The levels of minerals and vitamins have been adapted to the changing needs of dogs with impaired renal function. A dog with kidney problems often feels ill and has a poor appetite. That is why every effort has been made to make TROVET Renal & Oxalate RID Dog extra tasty.
Key features of TTROVET Renal & Oxalate RID Dog
Supports the kidneys and regulates fluid and electrolyte balance of the body and blood, as well as the removal of unusable metabolites.
The high biological value of the food provides fewer "leftover amino acids".
Easily absorbable calcium and increased vitamin D3 content promotes calcium absorption in the intestine and the lower phosphorus content reduces damage to the kidneys.
K-citrate reduces the risk of the formation of calcium oxalate stones.
Recommended for
Renal failure and renal insufficiency
Urinary tract stones due to urate, cystine and oxalate
Not suitable for
Puppies
Pregnant and lactating bitches
Dogs with urinary tract stones which consist of struvite
Use
The recommended period of use for TROVET Renal & Oxalate RID Dog is at least 6 months. Renal & Oxalate is a complete diet food which can be used indefinitely.
Measurements kibbles
Thickness: 6,5 mm
Length: 19 mm
Dry food ingredients
Cereals (maize, rice), oils and fats (fish oil, lard), vegetable products (beet pulp), minerals, meat and animal derivatives (chicken), vegetable protein extracts (wheat gluten).
Wet food ingredients
Meat and animal derivatives (pork, chicken), grains (rice, wheat), oils and fats (sunflower oil), sugar, minerals, fish and fish derivatives, vegetable derivatives (wheat bran, guar gum).
Snacks
TROVET Renal & Oxalate RID Dog is compatible with the following snacks:
Reviews
Have you used TROVET Renal & Oxalate RID Dog before? Let us know what you think about this product.
Write a Review
Perfect for my dogs condition
This is the only product that keeps my dog in good health, does not put weight on him and satisfies his appitite
Very strange the price shot up after Brexit date. Have now found another cheaper supplier in the uk
Keeping my 14 year old greyhound well.
Dancer my 14 year old rescued greyhound was diagnosed with renal failure several years ago. We tried other products but she really didn't enjoy them. Since changing to Trovet Renal & Oxalate you can see she really enjoys the taste and has helped keep her well. Thanks to vetsend the order always arrive promptly.
I'm not sure about this product, trovet wet renal oxlate for dogs. I think the protein level is higher at around 8% and she definitely drinks and wees a lot more on this as opposed to others including leading brands?. I think I've tried everything on the market including foreign. I've found being a palatable food is a huge problem I've used others with around 5% protein and that doesn't work either although it's difficult enough to tell because with this disease the appetite can vary enormously from day to day. The assumption is low protein, phosphorous and urinery c
My dogs love the biscuits
Even my dogs without kidney problems love these biscuits my shar pei thinks they are treats And helps my beloved shih tzu keep her kidneys under control.
Only one of my four dogs need these biscuits but it's hard keeping the other three away from them