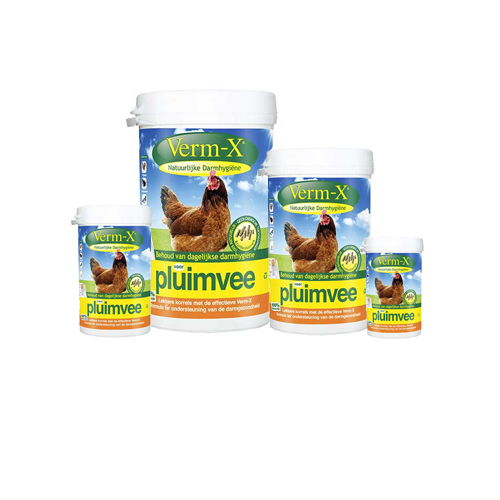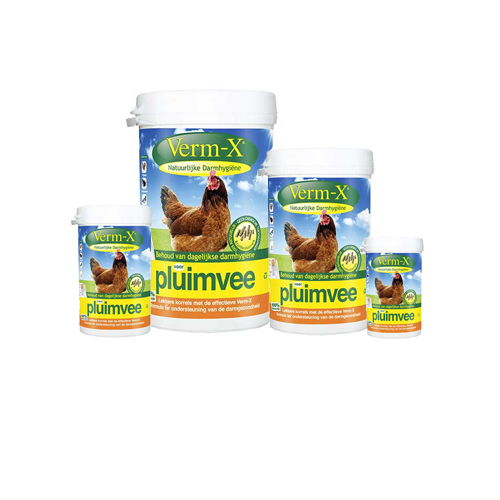 Verm-X for Poultry
Verm-X is a supplement for poultry. The pallets and liquid contains a mix of herbs which support the intestinal health. Verm-X is a natural product and not harmful to the eggs.
Verm-X Pellets for Poultry - 250g
Verm-X Pellets for Poultry - 250g

£22.95

Verm-X liquid for Poultry - 250ml

£25.75

Verm-X liquid for Poultry - 500ml

£44.75

Verm-X liquid for Poultry - 1L

£78.50
In stock - ordered before 8pm, same day dispatch*
Add to Basket
Keep me informed

Free delivery - on orders over £59
Delivery charge: £3.95 on orders up to £59 Be noticed: delayed delivery possible due to corona
Be noticed! Delayed delivery due to corona
Free delivery on orders over £59
Choose from over 10,000 products!
Free returns *
Product Description
The Verm-X Range
It is Verm-X's mission to make sure that animals stat healthy and that they have and keep optimal intestinal health and hygiene. Verm-X started with products for horses in 2002. In collaboration with some of the most renowned naturopathic physicians Paddocks Farm Partnership started producing a healthy herbal preparation. This day, the Verm-X range includes successful product for horses, cows, chickens, dogs, cats, rabbits, and rodents, sheep and goats, pigs, aviary birds, racing pigeons, game birds, reptiles and lamas and alpacas.
Verm-X for poultry
When your poultry's intestines could benefit from support, you can give them the Verm-X pellets or liquid. Verm-X is a herb mix which includes garlic, cinnamon, cayenne and Greek inula. Garlic helps to soften the stool and supports the intestinal health. The cayenne enhances the effect of other ingredients, such a cinnamon, which is beneficial to digestion. Greek inula is a plant which supports the condition of the intestines.
Dosage pellets
Add 2.5 gram of Verm-X pellets per bird to the feed for three consecutive days. Repeat every four weeks. Each package comes with a measuring scoop.
Dosage liquid
Add 1.5 ml Verm-X liquid per bird to the drinking water for three consecutive days. Repeat every four weeks. Do not supply any other drinking water next to the water with Verm-X.
Ingredients
Allium sativum (garlic), Cinnamomum zelandicum (cinnamon), Gallium aperine (cleavers), Capsicum minimum (cayenne), Mentha piperita (peppermint), Urtica dioica (nettle), Picrasma excelsa (bitter wood), Foeniculum vulgare (fennel), Ulmus fulva (slippery elm), Thymus vulgaris (thyme) and Inula helenium (Greek inula).
Reviews
Have you used Verm-X for Poultry before? Let us know what you think about this product.
Write a Review