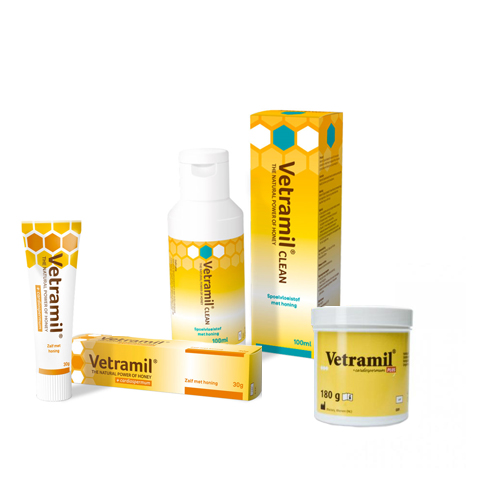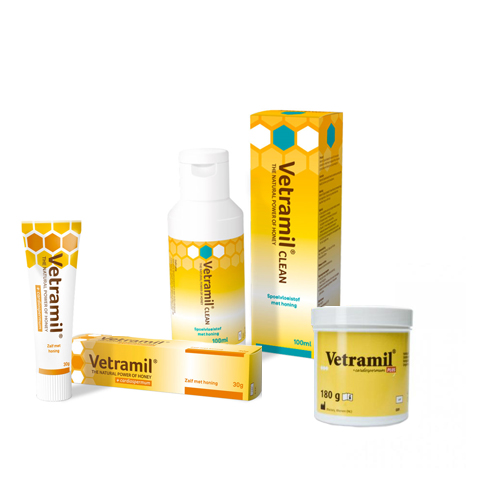 Vetramil
Vetramil honey ointment supports the healing capacity of the skin. This product is available as a wound ointment or as a rinsing fluid.
Vetramil Honey Ointment - 30g Tube
Vetramil Honey Ointment - 10g Tube

£8.50

Vetramil Honey Ointment - 30g Tube

£18.50

Vetramil Honey Ointment - 180g Jar

£48.95

Vetramil Rinsing Fluid - 100ml

£17.50

Vetramil Rinsing Fluid - 250ml

£25.50
In stock - Order before 5pm and have it shipped the next working day
Add to Basket
Keep me informed

Free delivery - on orders over £59
Delivery charge: £4.50 on orders up to £59
Free veterinary advice
Free delivery on orders over £59
More than 10,000 products available
Free returns *
Product Description
Due to the enormous demand for honey ointment, the stock of the -NML health- Vetramil ointment is sold out. Therefore, you will temporarily receive the international variant of Vetramil ointment. This is without the addition of Cardiospermum extract.
How Vetramil Works
Vetramil is a wound ointment based on honey and essential oils. The ointment has basic ingredients which soothe and reduce dry skin. Vetramil contains honey with a very high enzyme content which has a dirt removing effect and quickly cleans irritated wounds. Due to the low pH value, the ointment creates a wound healing environment. The pure, natural essential oils help restore irritated skin and enhance the cleaning effect. You can use Vetramil wound ointment immediately. Vetramil Spray contains honey with a high enzyme content and a low pH. The enzyme glucose-oxidase ensures a moist environment for a slow release of small concentrations of hydrogen peroxide. This cleanses the wound without damaging the fragile skin. The addition of propylene glycol spreads throughout the wound and has a slight drying effect.
Using the Vetramil ointment
If necessary, clean the wound with water and dry with clean tissue
Apply liberally once daily to the wound
Thoroughly massage onto irritated skin
For small skin lesions, do not cover
For larger wounds, cover the wound with a secure gauze and secure the gauze with a bandage
Treatment can be stopped when the wound is closed
Using the Vetramil Rinsing Fluid
Clean the affected area as normal
Use 1-2 times daily on the affected area with an adequate amount of fluid depending on the size of the wound
Reapply the fluid as necessary in order to keep the affected area clean
The treatment can be stopped when accumulation of dirt is removed and the affected area has calmed
Ointment ingredients
Cetostearyl alcohol, sodium lauryl sulphate, isopropyl myristate, paraffin, white petroleum jelly, honey, essential oils.
Rinsing Fluid ingredients
The rinsing fluid is based on honey and propylene glycol for local application: honey, Propylene Glycol, Aqua purificata, Polysorbate 80 NF.
Precautions:
Do not use if the tube is damaged
Close the tube after use
Avoid direct contact between the tube and the wound surface
After opening, use within 3 months
Reviews
Have you used Vetramil before? Let us know what you think about this product.
Write a Review
Lovely product, smells gorgeous and really does make sore areas better. I use it for splits in my fingers as well as on my dog.
I use this for my dogs and for myself. There are many honey creams for humans too, but I think they smell bad and irritate my skin too much. I use this for wounds, rash, crackled heels, dry lips etc. Excellent for sore small cracks in my finger tips in wintertime. Helps in few days. My older dog had a big surgery last year and the wound got infected. This cream helped in a week.
This is an ointment for animals, but I use it for myself. I have very sensitive skin on my hands and it started to crack and small wounds started to appear. Nothing helped. Until by accident my mother gave me this ointment she bought for her cat (as she didn't have anything else at home while I was visiting). It helped instantly! Such a relief! Simply fantastic product. This is my second tube and will probably buy more.
Excellent product and service.
I bought this because my tortoise had lost a segment of his shell with no sign of it healing. He was attacked by flies that laid eggs. We took him to the vets who cleared the eggs and maggots that had just started to hatch. She gave me a small tube of Vetramil to try. I had heard that honey was good for healing so gave it a go. The product started to work very quickly so I bought the large jar. The tortoise's missing shell segment has closed and is now hardening and making a new segment. I am so pleased with the result and now have a happy tortoise. After ordering the product it arrived very quickly.
Does as it says on the tin and it has a nice smell to it. Happy with purchase, would order again.