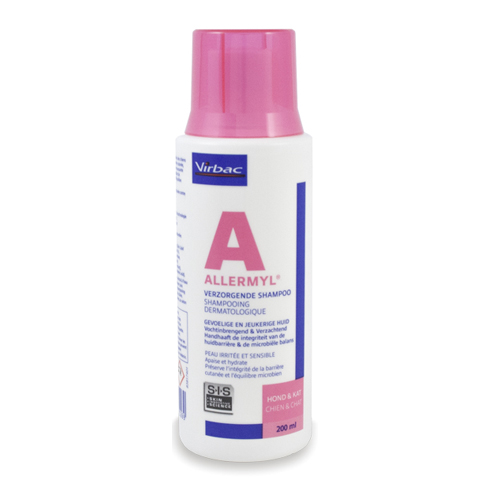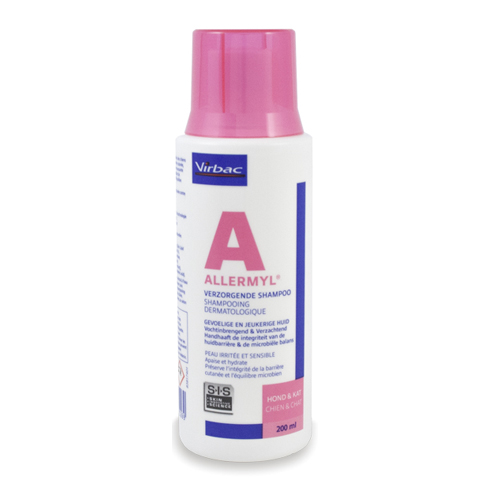 Allermyl SIS Shampoo
Allermyl SIS Shampoo is an itch-relief shampoo for dogs and cats with skin allergies.
Allermyl Shampoo - 200ml
£16.95
In stock - Order before 5pm and have it shipped the next working day
Add to Basket
Keep me informed

Free delivery - on orders over £59
Delivery charge: £4.50 on orders up to £59
Free veterinary advice
Free delivery on orders over £59
More than 10,000 products available
Free returns *
Product Description
Allermyl Shampoo
Allermyl Shampoo contains Omega-6 fatty acids which contribute to skin recovery, and monosaccharides and vitamin A help to reduce inflammation. Piroctone olamine reduces existing secondary skin infections. Allermyl Shampoo can also be used for pets with flea, food, or contact allergies.
Key features
Allermyl Shampoo is specially formulated for sensitive or irritated skin. It contains a combination of soothing and antiseptic ingredients to nourish and protect the skin.
Dosage and administration
Virbac Allermyl Shampoo is a liquid shampoo, which is easy to distribute and easy to rinse out. To use, first wet the fur and then apply shampoo to your pet? fur and your hands, massaging thoroughly into the fur. Rinse, then repeat. For the second wash, leave the shampoo to soak for 5-10 minutes, then rinse thoroughly. Allermyl Shampoo can be used 2 to 3 times a week.
Warnings
For external use only, avoid contact with eyes and ears. If this does happen, rinse immediately with water.
Composition
Allermyl shampoo is a foaming micro-emulsion based on mild cleansing ingredients, piroctone olamine, monosaccharides, vitamin E and linoleic acid (Omega-6)
All of our products are sourced from genuine veterinary wholesalers in the Netherlands. Because of this, some items may be delivered in Dutch packaging.
Reviews
Have you used Allermyl SIS Shampoo before? Let us know what you think about this product.
Write a Review