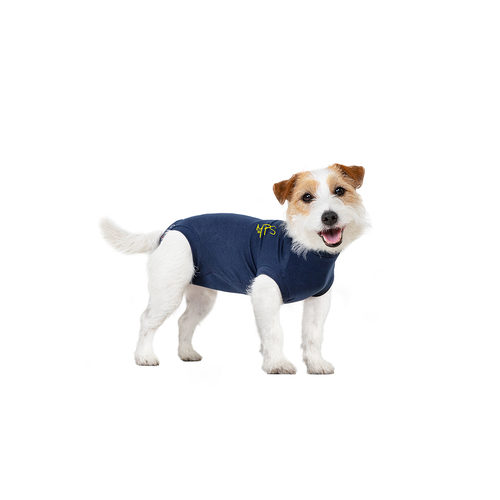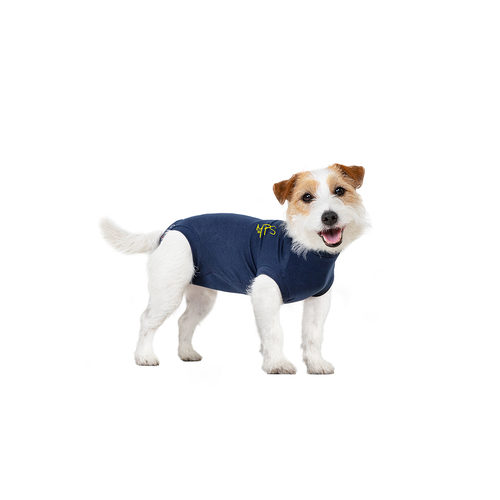 Medical Pet Shirt Dog
Medical Pet Shirt provides hygienic protection after surgery or in cases of skin disease. The Medical Pet Shirt does not impair your dog's range of movement.
Medical Pet Shirt Dog - Blue M plus
Medical Pet Shirt Dog - Blue XXXXS

£16.50

Medical Pet Shirt Dog - Blue XXXS

£16.50

Medical Pet Shirt Dog - Blue XXS

£16.50

Medical Pet Shirt Dog - Blue XS

£16.50

Medical Pet Shirt Dog - Blue S

£17.25

Medical Pet Shirt Dog - Blue S plus

£17.25

Medical Pet Shirt Dog - Blue M

£17.25

Medical Pet Shirt Dog - Blue M plus

£17.25

Medical Pet Shirt Dog - Blue L

£18.50

Medical Pet Shirt Dog - Blue XL

£18.50

Medical Pet Shirt Dog - Blue XXL

£19.25
In stock - Order before 5pm and have it shipped the next working day
Add to Basket
Keep me informed

Free delivery - on orders over £59
Delivery charge: £4.50 on orders up to £59
Free veterinary advice
Free delivery on orders over £59
More than 10,000 products available
Free returns *
Product Description
The Medical Pet Shirt looks like a canine onesie. It can be easily removed thanks to the opening at the back. When going for a walk, it can be secured with press studs near the tail. In case of incontinence, or when a bitch is in season, a panty liner or sanitary towel can be fitted. The Medical Pet Shirt is comfortable, hygienic and machine washable at 30º Celsius.
How do I put it on my dog?
For small dogs with short legs, pull the shirt over the head first, and then insert legs into the relevant openings one by one. For larger dogs, it is easier to first insert one leg, then the head followed by the other legs, and finally pulling the shirt up your dog's torso, pulled back as far as possible. The two ends of the ventral side (between the hind legs) can be affixed using the press studs. Ensure there is sufficient room for the tail.
Uses
After surgery, for skin disorders, in oestrus or incontinence.
After surgery
The Medical Pet Shirt reduces stress, anxiety and uncertainty after surgery (compared to the clear plastic collar)
The dog cannot reach the wound
Because the Medical Pet Shirt is not tight around the belly, the wound is sufficiently aired, and should remain dry
The Medical Pet Shirt is light blue inside the belly, so any seepage from the wound is visible. A panty liner can be applied inside the shirt, or between the double layer at the abdomen
During anaesthesia dogs are often shaved, and body temperature is lowered. The Medical Pet Shirt will keep the dog warm after surgery
During oestrus or incontinence
Using the Medical Pet Shirt means less blood or urine stains in your house. Unlike the pants, dogs find it difficult to remove the shirt so it is hygienic for you and the dog.
Please note: The Medical Pet Shirt does not have a hole in it to allow for urination. However, you can easily open the back using the press studs and roll the shirt up when taking your pet out.
| | | | |
| --- | --- | --- | --- |
| Size of Medical Pet Shirt | Length from collar to tail | Neck circumference from - to* | Example breeds |
| XXXXS | 19 - 30cm | 18 - 28cm | Mini Chihuahua, cats |
| XXXS | 22 - 35cm | 24 - 38cm | Chihuahua, Toy Poodle, cats |
| XXS | 33 - 42cm | 24 - 38cm | Lhasa, Yorkshire Terrier, cats |
| XS | 40 - 45cm | 26 - 42cm | Maltese, Boston Terrier, cats |
| S | 43 - 51cm | 31 - 44cm | Beagle, French Bulldog, Fox Terrier |
| S plus | 49 - 57cm | 32 - 48cm | Beagle, American Staffordshire, Chow-Chow |
| M | 55 - 69cm | 38 - 54cm | Schnauzer, Samoyed |
| M plus | 61 - 72cm | 41 - 60cm | Collie, Boxer, Labrador |
| L | 67 - 76cm | 41 - 60cm | Labrador, Rottweiler, German Shepherd |
| XL | 74 - 82cm | 51 - 76cm | Bullmastiff, Rhodesian Ridgeback |
| XXL | 80 - 92cm | 51 - 76cm | Leonberger, St Bernard, Newfoundlander |
*These measurements exclude a potential 10% deviation on textiles.
Washing
The Medical Pet Shirt can be cleaned in the washing machine at 30 °Celsius.
What size should I order for my dog, and what if the shirt doesn't fit?
Measure your pet from the collar to the beginning of the tail to make a good estimate. It is better for the shirt to be slightly tight than for it to be too loose. The following sizes are the lengths from the neck to the tail of the dog. Please note: because we are often faced with returns of Medical Pet Shirts which are dirty, we apply the following rules for returns. If the Vetsend employee receives a Medical Pet Shirt which is dirty / stained / worn / contains dog hair / has a dirty smell or has been washed after use, we reserve the right to not refund money to your account. We will not return the shirt to you, but donate it to a local animal shelter.
TIP: To prevent hair ending up on the product or it becoming dirty, we recommend putting a T-shirt on your dog first.
It's important to know how to measure your pet properly to ensure that you purchase the right size. The How to determine the right size for my pet article offers insight and tips on the best way to do this!
Reviews
Have you used Medical Pet Shirt Dog before? Let us know what you think about this product.
Write a Review
My vet put this on my Shih tzu after she had a spleenectomy. It worked a treat, wound healed, she didn't worry it and it seemed to keep her cosy and not anxious at all. My Lhasa Apso is very reactive to fireworks and thunder. I've resisted buying thunder shirts previously as expensive when you don't know if it work. Decided to put on him last night before fireworks started and it worked brilliantly. Just put it on again this evening as expecting more. Will purchase another for my very anxious bichon x shihtzu for when we travel across the Irish sea next year. Love it.
Not ideal for what I needed
It seems a good product, but put down 1 star as my personal reason for buying it didn't suit, even after the vet recommended it. I wish I knew about this product previously when my dogs had other ops, as would be perfect to protect the wounds and stop him wearing the cone of shame. I like you can clip it all the way down or leave it up so they can still go to the toilet without taking it off. My dog had surgery on his shoulder and have been told to be careful otherwise where they've reattached the ligament and tendon they could break. This shirt would have meant the shoulder needing to be manipulated to get in the shirt, so it was never used. Maybe some poppers/zip on the back would have been better so it could slide on would have helped making it usable in my case. I've returned it for a refund. But if I have a dog in the future it would suit then I wouldn't hesitate to buy one and prevent the cone of shame! Plus give me some peace of mind.
Top quality product, delivered when stated. Really please and would highly recommend.
Comfy, stretchy, non itchy, fits perfect. Can't recommend it highly enough
I found although she needed the size for her girth it was too long in the body and keot slipping down her back legs so had to modify to suit the purpose.
Great Alternative to the cone of shame
I bought this product and have been really pleased with it- so has my dog! Given he is a Bernese Mountain Dog - not much fits him - but the sizing on this product was great and prevented him feeling very miserable with a cone - also saved the backs of my legs and the house from damage!!! It was received very quickly after ordering. Well worth it and good value.