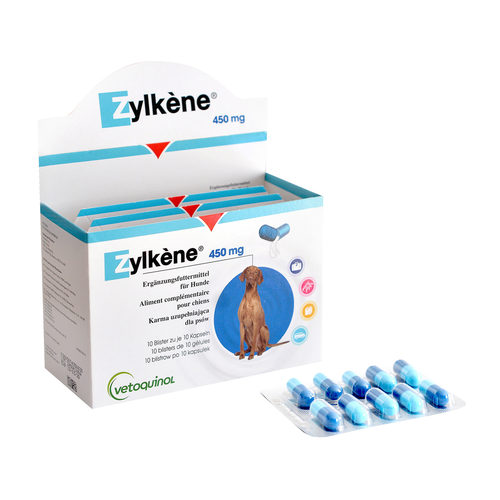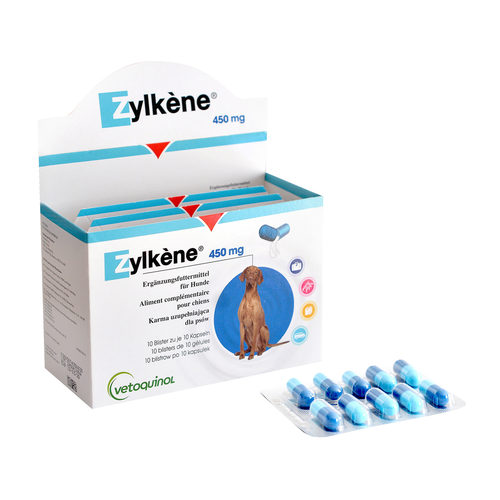 Zylkene Capsules
Zylkene Capsules provides support for dogs and cats with anxiety and/or those experiencing stressful situations prior to a stressful event.
Zylkene 225 mg - 100 capsules (dogs)
Zylkene 75 mg - 30 capsules (cats & small dogs)

£17.25

Zylkene 225 mg - 30 capsules (dogs)

£27.50

Zylkene 450mg - 30 capsules (dogs)

£47.95

Zylkene 75 mg - 100 capsules (cats & small dogs)

£49.75

Zylkene 225 mg - 100 capsules (dogs)

£78.95
In stock - Order before 5pm and have it shipped the next working day
Add to Basket
Keep me informed

Free delivery - on orders over £59
Delivery charge: £4.50 on orders up to £59
Free veterinary advice
Free delivery on orders over £59
More than 10,000 products available
Free returns *
Product Description
Videos
Product Description
Versatile
This product is designed to help cats and dogs during stressful periods and in stressful situations, like being left alone, getting used to a new environment, new people, a new companion, as well as during periods of recovery after medical treatment, milk yield, weaning, holidays, car trips, firework anxiety, or at any other time when their daily routine changes. Zylkene Capsules contains alpha-casozepine, which is derived from milk protein.
Persistent Behavioural Problems
Constant exposure to stressful situations can cause (permanent) behavioural problems, such as eating disorders or digestive problems, relieving or peeing in the house, anxiety, aggressiveness or stereotypical behaviours (licking, self-mutilation, spinning etc.).
Dosage
| | |
| --- | --- |
| Weight | Quantity |
| <5 kg | 1 capsule per day |
| 5 - 10 kg | 2 capsules per day |
| | |
| --- | --- |
| Weight | Quantity |
| 10 - 15kg | 1 capsule per day |
| 15 - 30kg | 2 capsules per day |
| | |
| --- | --- |
| Weight | Quantity |
| 15 - 30kg | 1 capsule per day |
| 30 - 60kg | 2 capsules per day |
Instructions
Zylkene Capsules is hypoallergenic, and free of preservatives and lactose. It should be administered orally, and is a supplementary feed. Zylkene Capsules consists of a capsule containing a flavoured, water-soluble powder. The capsule may be administered whole, but it is preferable to open the capsule and mix the contents with food or a snack.
If necessary, you can double the dosage.
Directions for use
Short-term
(For example, visits to the vet, travelling, staying in kennels):
Give Zylkene Capsules 1 to 2 days in advance
Repeat a few hours before the stressful event or change in environment
In some cases it is better to give Zylkene Capsules 5 to 7 days prior to the stressful situation
Long-term
(For example, being home alone, living together with other animals, building work):
You can expect to see an effect, depending on the situation, after 1 to 2 weeks
Re-evaluate your pet after one month
It is recommended that this product is used for 1 to 2 months for optimal results.
Reviews
Have you used Zylkene Capsules before? Let us know what you think about this product.
Write a Review
Absolute brilliant product, quick to work, got my dog back to his usual self. hes back with confidence. would definately us again
I bought these to help my cat as she was slightly stressed I used them for a couple of days and noticed a difference in her .she was a lot calmer and a lot happier
Excellent service, arrived when predicted. Product (100 tablets) obviously intended for vet surgery as 10 empty cardboard envelopes included (and not needed). Would be great in this environmentally conscious world if could have 100 tablets and no extra packets or space in the box! Otherwise great.
My dog's a lot happier and calmer thanks to Zylkene! Not noticing any side effect, either!