Entertain your pet, the top 5 most popular dog and cat toys
The time we are living in right now is insecure and confusing. People work home, schools are closed and social contacts are avoided. This takes some time for everyone to get used to. Not only for you, but also for pets.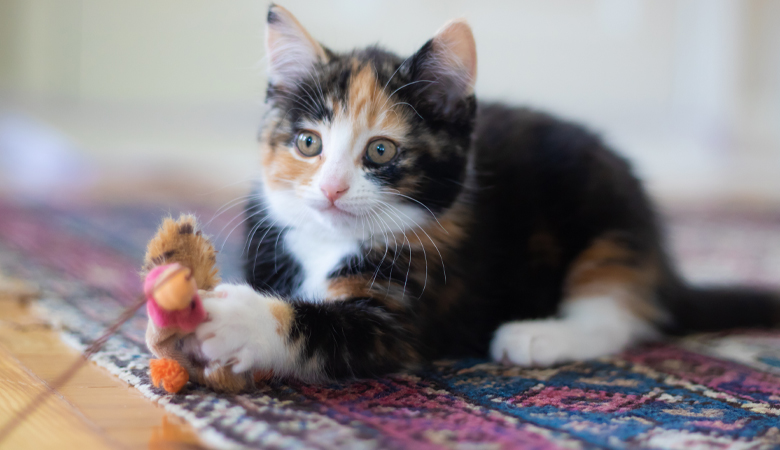 Suddenly the owner is home all day! Still, as the owner, you don't have the whole day to play, especially when you work from home. How can you make sure that your dog or cat can still have fun when you're working at home? And how can you combine this with distraction for yourself and working on a good bond between you and your pet?
We have made a popular top 5 of dog and cat toys that guarantee a lot of fun in the house. So your dog or cat can play while you are working at home.
Top 5 toys for dogs
KONG Core Strength
The perfect chew toy for your dog! With the KONG Core Strength your dog can play all day long. The outside of this toy is made of different structures, so it helps to take care of the teeth.
Trixie Snack Snake
Is your dog a real snack lover? Then challenge him to conquer his own treats! In the Trixie Snack Snake you can put your dog's favorite snacks. After that, it's up to your dog to get the treats!
KONG Floppy Knots
The cutest toy for your pet! The KONG Floppy Knots are cheerful cuddles toys with a soft body and little arms and legs of rope. The different textures and the fun squeaky sound stimulate your dog's hunting instinct. Let the fun begin!
Chuckit! Ultra Ball
Let's get some fresh air in the garden, shall we? The Chuckit! Ultra Ball is the perfect toy for a game of fetch! The ball bounces and the orange color makes it easy to find in the grass! With this toy, you both get your daily workout!
Trixie Dog Activity Flip Board
A real brainteaser for your dog! The Trixie Dog Activity Flip Board is a fun play puzzle for dogs, where you can hide different treats. By moving the pawns, lids and sliders, your smart dog will find the snacks. Will your dog crack the puzzle and find all the hidden treats?
.
Top 5 toys for cats
Catit Senses Play Circuit
The Catit Senses Play Circuit is the ideal toy to keep your cat entertained for hours (and maybe even your children). The Play Circuit has 4 separate click on tunnels to make different tracks. A fun (luminous) ball and/or treats in it guaranteed lots of fun!
KONG Cat – Laser
A laser light provides a lot of fun for cats. This red light stimulates the hunting instinct of your furry friend optimally! This laser light from KONG still needs you, to make it move, but as petowner, you also need to get your inside workout!
Lief! Play Tunnel
You'll notice that your cat demands a lot of attention from you now that you're more at home. He or she will probably challenge you, because it's playtime! The Play tunnel of Lief! makes sure your cat will shift his attention and can play with it and hide in it.
Beeztees Adjustable Snack Ball
Challenge and reward your cat at the same time, that's possible with the Snack ball of Beeztees! Put your house cat's favourite snacks in the ball, adjust the opening and you're done. Your cat has to roll the snackball to drop some treats. He's guaranteed to be sweet with this fun toy for a while.
KONG Cat – Feather Teaser
Interactive toys stimulate your cat's hunting behaviour. The KONG Cat Feather Teaser is a toy rod with a rope and small stuffed animal attached to it. When you make unexpected movements with the rod, your cat will sneak up on the cuddly toy, hunt it down and want to catch it. A wonderful toy to keep your cat in motion!