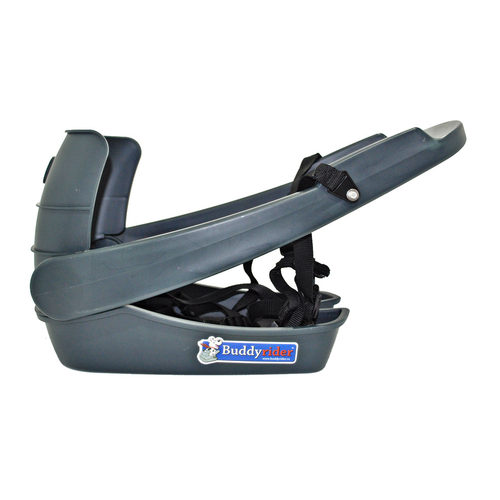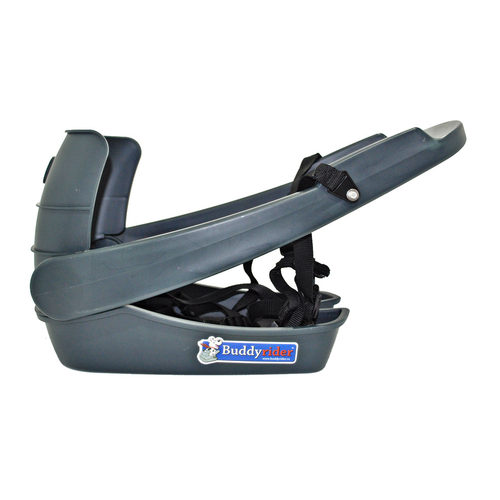 Buddyrider Bicycle Seat
This product is no longer available. You can find a suitable alternative here.
Buddyrider Bicycle Seat is a comfortable and safe bike seat to transport your furry friend. This seat is easy to attach to the seat post.
Free veterinary advice
Free delivery on orders over £59
More than 10,000 products available
Free returns *
Product Description
Leaflet
Product Description
This product is no longer available. You can find a suitable alternative here.
Please note: only the pillow is still available
Buddyrider Bicycle seat
The Buddyrider is specially designed for owners who like to take a bike ride with their little four-legged friend. With the Buddyrider you can be sure that you will have many hours of healthy outdoor fun together! This unique seat has a belt for extra safety. Because your pet friend will be in a comfortable position, every bike ride will be pleasant! The bike seat is attached to the seat post. Because of the sitting position between your arms, the dog feels secure and most dogs will sit quietly. Let the adventure begin!
Key Features
Comfortable and safe bicycle seat for small dogs
Equipped with a seatbelt, for extra safety
The bike ride becomes comfortable for the owner and your dog friend
Because of the sitting position between the arms, your four-legged friend feels security
Suitable for
Small dogs up to a maximum of 11.5 kg. Small breeds are usually only around 11 kg. Most dogs of the terrier family fit perfectly in the BuddyRider.
Buddyrider with pillow
The Buddyrider with pillow provides extra padding in the seat, so that dogs up to 5 kg can also travel comfortably and safely. This bike seat comes with a comfortable pillow. In addition, this product includes mounting material.
Buddyrider without pillow
The seat without pillow is ideal for dogs up to 11.5 kg. This chair contains no pillow, as this would be too snug to fit your dog. The Buddyrider without pillow comes with mounting material.
Accessories
The following accessories can be ordered separately:
Pillow (only suitable for dogs up to 5 kg)
Extra mounting frame (very convenient for a second bike!)
How to assemble
The Buddyrider is designed so that it can be placed on almost any bike. It must be taken into account that there should be at least 48 cm between the saddle and the handlebar stem. More information about mounting the Buddyrider can be found inside the leaflet online.
Reviews
Have you used Buddyrider Bicycle Seat before? Let us know what you think about this product.
Write a Review
Practically brilliant with perfect weight distribution and balance. Dog loves it and everyone you pass cant help smiling. Just waiting for the pub beer gardens to open post lock down and it will get even more use.
Haven't used this yet but it was easy to assemble & add to our current bikes. We ordered 2 fixings one for each bike. Have had our 10kg Schnauzer sit in the start several times & he seems Ok. Just got to get out onto the busy roads during lockdown...with all the other racer cyclists....
I would not only praise the product but also the professional way the whole transaction was dealt with by The Vetsend staff.Thankyou all once again over their in lovely HOLLAND.You have made an elderly couple plus AMBER the dog very happy.