Hoof care
If you have a horse, it is important to have a proper hoof care routine. If you neglect the hooves while grooming, your horse could suffer from lameness, infection, or long-term injuries. To keep the hooves healthy and strong, you need to check the hooves regularly and apply appropriate hoof care where necessary.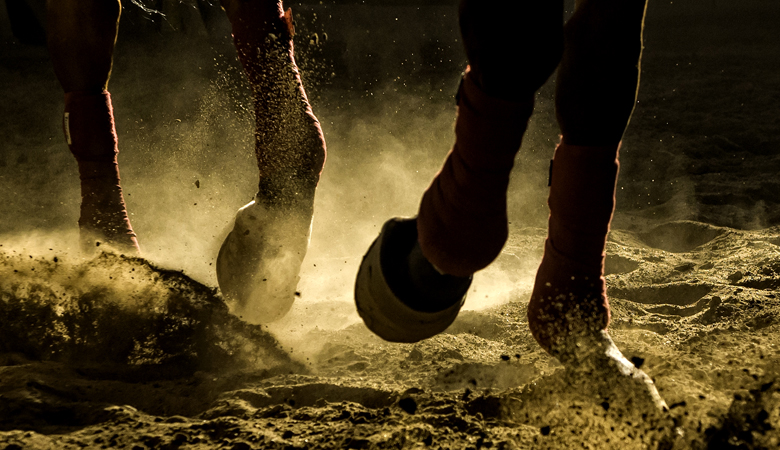 What is a healthy hoof?
A healthy hoof is smooth and isn't foul-smelling, so the hoof shouldn't have scratches or ridges on the outside wall of the hoof. A hoof also needs to absorb moisture to remain healthy. If the hoof is too dry, scratches might appear or pieces of the hoof could crumble off. You often see dried out pieces of the hoof after a visit of the farrier. When the removed parts of the hooves are dried in the sun, they will dry out completely and curl up.
What type of hoof care do I need to apply to keep my horse's hooves healthy?
One of the basics of hoof care is to pick your horses hooves with a hoof pick every day. This way you can prevent stones and dirt from gathering inside the hoof, while you'll be able to check for possible infections at the same time. One of the most common infections is thrush – easily recognised by its foul-smelling, thick, black discharge. If your horse is naturally inclined to contract thrush or is currently diagnosed with thrush, you can treat the hooves with Blue Wonder Gel.
Your horse will also benefit from daily exercise, such as going out for a ride, or taking a lap in the field or in a horse walker. Regular exercise allows the hooves to wear down naturally and postpones a visit to the farrier. Different from domesticated horses, wild horses tend to have healthier hooves because they are always on the move. Apart from wearing down the hooves, exercise is also beneficial for your horse's blood circulation.
Although a damp field or paddock is usually seen as a source for infection, horse hooves can also benefit from these environments. As hooves need to stay moisturised, having horses spend time in a damp area could result in healthier, more resilient hooves. Do keep in mind that your horse might get mud fever (also known as pastern dermatitis) if the pastern area on your horse's leg is wet for a longer period of time. Therefore, you should always dry the lower limbs thoroughly before returning your horse to the stable.
If your horse spends too long in a damp field or paddock, the hooves might absorb too much moisture and become soft. In this case it is wise to adopt tar in your hoof care routine. Hoof tar prevents water and dirt from seeping into the hoof. As the tar also prevents substances from leaving the tar, it is essential that you check for infections before applying the tar. If you're in need of hoof tar, you can find the different types here.
When do I need to use grease or oil for hooves?
Grease or oil for hooves is often applied before a competition or photoshoot. While it makes the hooves shine temporarily, it isn't recommended to adopt these products in your daily hoof care routine. The grease and oil actually prevent the hooves from absorbing moisture, which could result in the hooves becoming excessively dry.
In case your horse does suffer from dry hooves, oil and grease can be used as a moisturiser. If your horse's hooves remain dry even after your horse has spend time in a damp field or paddock, you can use grease or oil to take care or the hooves. These products can be applied with a brush, to limit vaporisation of the absorbed moisture. Some of the types of grease and oil found on our website already include a brush, ensuring you can take care of your horse's hooves easily.
Nowadays there are even greases and oils that improve the absorption of moisture. Once these products are absorbed they nourish the hooves without causing an unnecessary build-up of oil or grease. Many of these products also help to suppress bacteria and infection. To optimise your hoof care routine, you can clean the hoof with a special hoof brush before applying the grease or oil.
Can I use supplements to keep my horse's hooves healthy?
Keratin does not just support the growth of your horse's hooves, but it also stimulates the growth of the mane, tail and coat. Besides keratin, you could also use biotin, MSM, zinc and calcium to stimulate the hoof growth. A variety of supplements for hooves can be found on this page.