Tilt and turn windows are dangerous for cats!
For many cat owners it is a known danger: tilting windows, tilt and turn windows or hopper windows. However, some cat owners are not aware of the harm these windows can cause to your cat.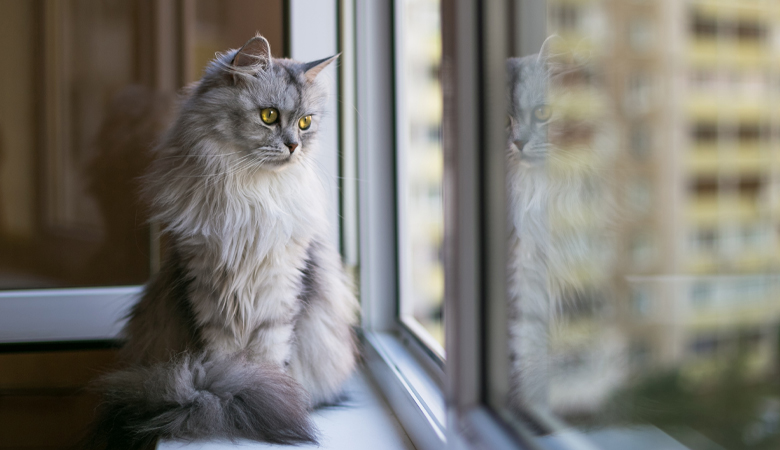 This article is written to raise awareness and explain the dangers tilt windows can bring to your cats.
Dangers of tilt and turn windows for cats
Cats can try to climb outside using a tilting window. In many cases they lose grip because of the smooth frame, and fall into the gap of the tilted window. This can have dramatic consequences. When your cat gets stuck, this can lead to suffocation or damage to the spinal cord. Often cats will start to resist in an attempt to free themselves. However, this does not work and can only increase the harm done. Unfortunately, many cats have already died in a tilting window or have suffered such severe damage to their spine or hind legs that they have become paralysed or had to undergo leg amputation.
As a cat owner, it is crucial to be aware of the harm tilt windows, or tilt and turn windows, can cause. It is even more important to find a solution and protect your cat from falling between the gap of your tilting window.
How to protect your cat against tilt window gaps
It is possible to put a thick towel into the gap on both sides, to prevent the cat from getting stuck in the narrowest part of the window. A better solution might be to completely prevent a cat from climbing out of the window. This can be done by using the Protective Grille for Tilting Windows. We also recommend to instruct anyone who is watching over your house during your holiday to not open the tilting window without using any protection.
The balcony can also pose a risk to cats. While cats are supposed to have 9 lives, we recommend that you protect the balcony in such a way that your cat cannot fall down. This can be done by using convenient window protection for cats.