Kidney problems in cats and dogs
Kidney problems are very common among cats and dogs. A large number of these pets only develop symptoms later in life. However, serious kidney problems may also occur amongst younger animals. One can distinguish between acute kidney failure and chronic kidney failure.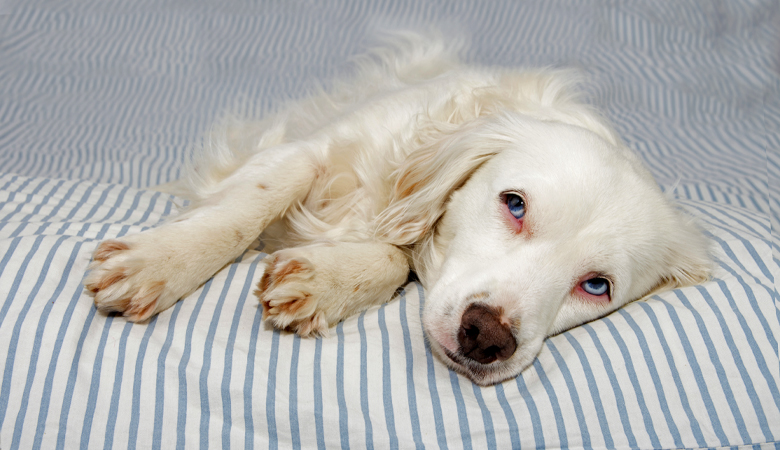 The causes of kidney disease amongst cats and dogs
Although the cause of a kidney disease is often unknown, this is not always the case. For instance, among cats there is a hereditary factor that may be relevant. You can think of PKD, or Polycystic Kidney Disease, among Persians. With dogs, renal insufficiency can be seen with a Leishmania infection or, for example, after grape/raisin intoxication.
Symptoms of kidney disease among pets
Chronic kidney disease often lurks for some time before the cat or dog gets any clinical symptoms. It is only when over 70% of the total kidney functionality is lost, that toxins accumulate in the body. Usually, the kidneys filter the blood from these toxins. However, when kidney function is impaired, this is not possible. The animal thereby poisons itself, so to speak. Commonly seen complaints include: reduced to absent appetite, vomiting, drinking a lot/lots of urine, losing weight, dull coat and mucous membrane lesions.
How to diagnose a kidney disease?
The diagnosis is made by means of urine and blood tests. Sometimes additional tests, such as an ultrasound or even a kidney biopsy, are recommended.
Treatment of kidney disease among cats and dogs
Severely damaged kidney tissue cannot recover. The treatment is intended to preserve the tissue that is still functioning. In the critical phase, IV treatment may occasionally be necessary. At a later stage, treatment is continued with a special kidney diet, sometimes complemented with medication or supplements. Generally, these are given for a lifetime.
Kidney diet as part of treatment
A kidney diet generally contains a reduced amount of protein, which is of high quality, to unburden the kidneys. The amount of sodium and phosphorus is also reduced. Kidney disease may be accompanied with nausea, which often makes it difficult to find a palatable kidney diet for your cat or dog. Sometimes it can help to alternate between several types of kidney diets, or to combine the kibble with wet food. Additionally, the palatability (of wet food in particular) can be increased by adding some warm water or by slightly heating the food. Within our product range, you will find excellent food for dogs/cats with kidney disease, including Royal Canin Renal, Hill's k/d, SPECIFIC Heart & Kidney Support, SANIMED Renal and TROVET Renal & Oxalate.
h3]Snacks appropriate for cats and dogs with kidney disease[/h3]
When an animal is prescribed a certain diet, it is essential not to give it a 'regular' diet. Nevertheless, it would be nice to spoil your cat or dog with a treat once in a while. Fortunately, snacks are also available for animals with kidney disease, so they can be spoiled without any problems! A number of examples of responsible snacks can be found amongst other things the assortment of Trovet: For dogs there are TROVET Multi Purpose Treats MRT (Rabbit), TROVET Multi Purpose Treats MLT (Lamb), TROVET Multi Purpose Treats MHT (Hydrolysed Protein) and TROVET Low Calorie Treats LCT (Lamb). Cats can be spoiled with TROVET Multi Purpose Treats MFT (Fish).
Phosphate bonds to support the kidneys
Some kidney patients have an excess of phosphate in their blood. Therefore phosphate bonds can be given to normalize the phosphate levels in the blood. Phosphate reduction slows the further deterioration of the kidneys. Products that contain phosphate binders are: Ipakitin and Pronefra. For cats the Porus One has been specifically developed. This product captures toxins in the intestine that are harmful to the kidneys, the so-called uremic toxins. Pronefra also has this property, in addition to binding phosphate.
Supportive supplements in case of kidney disease
In addition to the above-mentioned adjustments, there are a number of supplements that can support the kidneys in a natural way. Think of products like Pure Kidney, Phytonics Kidney Comp, De Groene Os Blaas-Nier Compositum and Sensipharm Kidney Care Plus.
Do you have any further questions about kidney problems in your cat or dog? Please contact our veterinarian via e-mail at: veterinarian@vetsend.co.uk