Make your dog more visible in the dark
When the winter months start and it starts getting dark earlier, it is important to take extra care to ensure that you and your dog are safe. Whether you are cycling or walking, visibility contributes to your safety. It is important that both you and your dog are highly visible. We will discuss this further in this article, as Vetsend has various products in its range to ensure a better visibility, including safety lights, reflective lines and safety vests, to ensure that every dog is highly visible in the dark.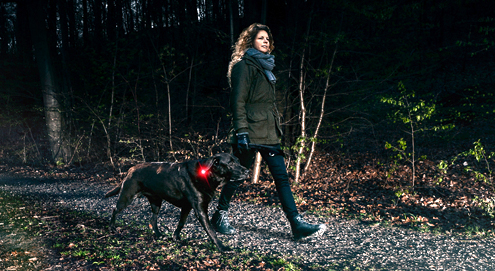 Reflective collar and dog lead
To make your dog highly visible, there are various options available. These includes reflective dog leads or collars. Many collars and leads now have reflective strips on them as standard. The disadvantage of reflective strips is that these are only visible when there is a light shining on them. For a better visibility, there are also collars and leads available with reflective strips and a bright neon colour. The combination of the yellow neon colour and the reflective strips is more visible in the dark (an example of this is the Flexi Neon Tape Leash.
There are also collars and leads with LED lighting. Thanks to the LED lighting, your pet is constantly visible. These collars and leads require batteries and can often be set to a flashing or constant light setting. For the Flexi Vario Tape Leash there is an extra expansion available in the form of a (flash) belt.